Pressure Sensors / Detectors / Transducers
DLV Series Sensors are embedded with I²C or SPI interface.
Press Release Summary: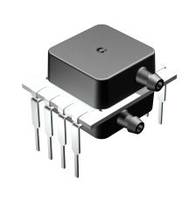 DLV Series Sensors are available in multiple port and lead configurations. Units offer 30 and 60 psi differential and 600 to 1100 mbar barometric pressure ranges. Products are offered in 5, 15, 30, 60 psi pressure ranges and are suitable for medical breathing, environmental controls, HVAC, industrial controls and portable device applications. Sensors come in PC board mountable package and feature 3.3V or 5V supply voltage.
---
Original Press Release:
Extended Pressure Ranges For DLV Series Sensors Now Available!
All Sensors has announced the availability of additional DLV Series pressure ranges. The DLV Series now includes 30 and 60 psi (200 and 400 kPa) differential and 600 to 1100 mbar (60 to 110 kPa) barometric pressure ranges. This device series offers design engineers excellent performance over barometric and middle pressure ranges of 5 to 60 psi (35 to 400kPa).
Devices are now available in 5, 15, 30, 60 psi (35, 100, 200, 400 kPa) and barometric pressure ranges.
Package Features:
Total Error Band (TEB) 0.5% (typical)
I²C or SPI interface
3.3V or 5V Supply voltage
PC board mountable package
Multiple port and lead configurations available
Applications:
Medical Breathing
Environmental Controls
HVAC
Industrial Controls
Portable Devices
Check out our website for more information at All Sensors | DLV Series: https://www.allsensors.com/products/dlv-series?utm_campaign=DLV%20Promotion&utm_source=hs_email&utm_medium=email&utm_content=56772915&_hsenc=p2ANqtz-9w8v9UNypJOOyjxshstpAe-zuUOpYdxefWkElG2socu-vjZxIjP3FPL2TtEBEVvroX_5FD5SoJvDc-PqpCBIA3qgpuH03AQcl3nSYcY68sS02qTn0&_hsmi=56772829
Related