DLP Chipsets support 3D printing and lithography applications.
Press Release Summary: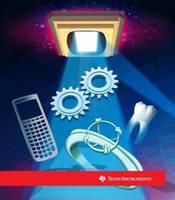 Programmable by DLPC900 controller, Model DLP9000 offers 4 million pixels, or 2,560 x 1,600 micromirror array, while Model DLP6500 provides up to 2 million pixels, or 1,920 x 1,080 micromirror array. Both digital micromirror devices feature programmable pattern rates up to 9,500 Hz for fast 3D measurements and product builds. Optimized for wavelengths from 400–700 nm, chipsets are compatible with widely available resins for 3D printing and resists for lithography applications.
---
Original Press Release:

TI DLP® High-resolution Chipsets Expand 3D Printing, 3D Machine Vision and Lithography Applications



Up to 4 million high-speed pixels allow designers to scan more, design brighter and build bigger



DALLAS -- Texas Instruments (TI) (NASDAQ: TXN) today announced the availability of two new high-resolution DLP® chipsets for 3D printing, 3D machine vision and lithography applications. The new chipsets, consisting of the DLP9000 and DLP6500 digital micromirror devices (DMDs) and each programmable by the DLPC900 controller, offer developers higher resolution imaging, extended wavelength support and faster pattern rates[1 compared to previous devices. The respective DLP LightCrafter((TM)) evaluation modules, DLP LightCrafter 9000 and 6500, allow developers to quickly assess each chipset, which enables a fast product development cycle. For more information, visit www.ti.com/dlphighresolution.



The DLP9000 offers four million pixels, or a 2560-by-1600 micromirror array, and is the highest resolution DMD in the TI DLP portfolio available to the broad market. The DLP9000 can be used to build large, advanced resolution objects in 3D printing and scan larger objects at longer throw[2 distances. For cost-sensitive applications, the DLP6500 offers up to two million pixels, or a 1920-by-1080 (1080p) micromirror array.



The DLPC900 controller provides a convenient interface for reliable, high-speed control of the micromirrors. By using a single controller to support multiple DMDs, customers have the flexibility to design multiple high-performance systems using just one design iteration.



Key features and benefits of the DLP9000 and DLP6500 chipsets include:



--  A scalable portfolio that enables the flexibility to choose the right performance and price point.

--  Programmable pattern rates up to 9,500 Hz for fast 3D measurements and product builds.

--  Optimized for wavelengths from 400 nm to 700 nm and compatible with widely available resins for 3D printing and resists for lithography applications.



Key features and benefits of the DLP LightCrafter 9000 and 6500 evaluation modules include:



--  Standard USB, HDMI and I(2)C interfaces allow developers to easily create designs for a variety of applications.

--  Simple-to-use GUI allows for efficient real-time chipset programming.



To accelerate end-product development, TI maintains an extensive ecosystem of design houses. The DLP Design Network provides developers a diverse network to support their hardware and software integration, optics design, system integration, prototyping, manufacturing services and turnkey solutions to support current and evolving customer needs.



Availability and package

Available now in volume from TI authorized distributors, DLP9000 is available in a 355-pin hermetic FLS package and the DLP6500 is available in 350-pin ceramic FYE and 203-pin hermetic FLQ packages. The DLPC900 controller is available in a 516-pin BGA package. The DLP LightCrafter 9000 and 6500 evaluation modules are available on the TI eStore.



Find out more by visiting the below links:



--  View a video of the DLP9000 and DLP6500 chipsets.

--  Check out the DLP Products & MEMS forum on TI's E2E community to search for solutions, get help, share knowledge and solve problems with fellow engineers and TI experts.

--  Visit the DLP Design House Network.

--  Visit the "Getting Started" page to begin working with DLP technology.



[1 DLP9000 has >4x higher resolution and >2x faster pattern rates than DLP4500; DLP6500 has >2x higher resolution and >2x faster pattern rates than DLP4500; DLP9000 and DLP6500 offer extended wavelength support of 400nm-700nm compared to the DLP4500, which offers 420nm-700nm.



[2 Compared to the DLP4500.



About Texas Instruments DLP Products

Since 1996, award-winning TI DLP technology has powered the world's top display devices to deliver high resolution images rich with color, contrast, clarity and brightness for a wide range of applications, including industrial, automotive, medical and consumer market segments. DLP technology is being used in movie theatres (DLP Cinema(®) products) and large-scale, professional venues and conference rooms, classrooms and home theaters. With mobile devices enabled by DLP Pico((TM)) technology, users have the ability to display images from the palm of their hand. Every DLP chipset features an array of microscopic mirrors that switch on and off up to ten thousand times per second. To learn more, please visit www.ti.com/dlp or follow TI DLP technology on Twitter at @TI_DLP.



About Texas Instruments

Texas Instruments Incorporated (TI) is a global semiconductor design and manufacturing company that develops analog ICs and embedded processors. By employing the world's brightest minds, TI creates innovations that shape the future of technology. TI is helping more than 100,000 customers transform the future, today. Learn more at www.ti.com.



Trademarks

DLP and DLP Cinema are registered trademarks, and DLP Pico, IntelliBright and TI E2E are trademarks of Texas Instruments. All registered trademarks and other trademarks belong to their respective owners.



CONTACT:

Kate Haas

Texas Instruments

214.479.4145

k-haas@ti.com





More from Cleaning Products & Equipment