Divinol Grease Available In New 500 Gram Screwable Cartridges
Press Release Summary: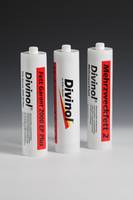 Ensures low-friction concentricity of rolling bearings, slide bearings, gears and other aggregates
Easy opening through unscrewing the lid provides advantages in lubrication services for construction, agriculture and forestry
---
Original Press Release:
Well-greased and Lubricated
Zeller + Gmelin expands its portfolio in the area Divinol grease
Eislingen, 05 august, 2019 – Zeller + Gmelin is well-known as reliable supplier of high-quality lubricants. Particularly in the workshop area, the Divinol brand is a household name. The product range of Divinol lubricants is extremely broad; hardly any wish in the motor vehicle sector remains unfulfilled. But the lubricant specialist from Eislingen has also lawnmower and chainsaw oils. Because of the high customer benefit and the strong market demand the manufacturer has now decided to extend its portfolio of 500 gram screwable cartridges with further greases.
Zeller + Gmelin covers in the garage operation almost every area – be it wheel cleaner, care spray or all kinds of oils and greases. Especially high-quality greases are getting more and more popular. "Worldwide, our customers are successfully using Divinol greases," knows Christian Stapper, Product manager for lubricants at Zeller + Gmelin. "No matter what area of application – our greases ensure a low-friction concentricity of rolling bearings, slide bearings, gears and other aggregates."
Greases for broad range of applications
With decade long experience and extensive practise know-how Zeller + Gmelin knows and understands the challenges for the use of greases. On this basis the company from Eislingen develops greases for diverse areas of application, in practical cooperation with the users. Thereby all specific requirements concerning lubrication performance, operational safety, economic efficiency, and environmental compatibility are completely achieved.
"We market greases depending on the purpose and lubricant quantity per lubrication interval in different container sizes," explains Product manager Christian Stapper. A very common container size in trade are the so-called grease cartridges, which are commonly sold with a filling weight of 400 gram. These cartridges are opened with pull-off tabs.
Screwable cartridges for comfortable handling
Next to the standard cartridges, so-called screwable cartridges have established on the market over the past several years. The main advantage of the screwable cartridges is the easy opening through unscrewing the lid. Especially under colder climatic conditions, as well during performing the lubrication servicing outdoor, like for instance in construction, agriculture and forestry, the easy opening proves to be a big advantage. "Because of the easy handling and diverse areas of application, our 500 gram cartridges are very popular in the market;" Christian Stapper explains. "That's why we decided to extend this portfolio, in the interest of our users, to further innovative greases."
New innovations in the area 500 gram (screwable cartridges)
Next to the already available products 'Divinol Multi-purpose grease 2"and the 'Divinol Garant 2000 EP Plus' high-pressure grease, the programme will be extended with a high-temperature and a long-term grease. In the future the following programme of grease will be available:
Divinol Multi-purpose grease 2 Universal grease on basis of lithium soap with a very broad area of application
Divinol Grease Garant 2000 EP Plus: Versatile EP-grease with a very with a very broad area of application.
Divinol Lithogrease 2 B: high-temperature grease for long term lubrication of hubs in commercial vehicles.
Divinol GreaseTop 2003: Semi-synthetic, water resistant, long-time grease on the calcium soap basis with very good adhesive properties.
Advantages of the DIVINOL greases at a glance:
High-quality greases
Extensive product portfolio for various requirements and purposes.
Long standing long-standing experience in the development and production of greases
Development of costumer specific products and close cooperation with users.
Consideration of the current legislation concerning chemicals.
About Zeller + Gmelin
Zeller+Gmelin GmbH & Co. KG, founded in 1866, employs more than 900 employees worldwide, nearly half of them are working at the headquarters in Eislingen. With its 16 subsidiary companies, the medium-sized company operates worldwide. The product portfolio is divided into the company divisions Lubricants, Industrial Chemistry and Inks. The high-quality products are at the forefront of the international market. Thus, Zeller+Gmelin offers individual and comprehensive solutions from a single source from research and development to production. How high the share of R&D is, is reflected that around 20 per cent of the employees in Eislingen work in this area to constantly develop and optimise the innovative products according to the requirements of the market and costumers http://www.zeller-gmelin.de
Your contact:
Andreas Rascher Marketing
Schlossstraße 20, 73054 Eislingen/Fils
Tel.: 07161 / 802 - 352
E-mail: a.rascher@zeller-gmelin.de
More from Mechanical Components and Assemblies