Divider/Feeder provides representative samples.
Press Release Summary: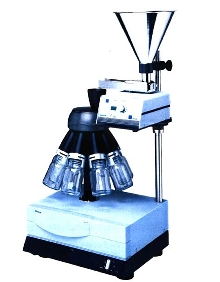 PT 100 Sample Divider ensures that sample represents entire bulk instead of random samples taken out of buckets with spatulas or spoons. Rotating rifflers spilt up to 5 L of inhomogeneous samples with wide particle size distribution into 6, 8, or 10 representative sub-samples. DR 100 Vibratory Feeder ensures that divider is centered over inlet hopper for no-loss feeding. Feed rate is controlled by sample divider via interface.
---
Original Press Release:
Representative Samples For Reliable Analysis

Retsch launches its most advanced line of Sample Divider and Vibratory Feeder Instruments that address many of the problems now faced by laboratory professionals involved in taking random samples. The Retsch Sample Divider PT 100 makes sure that important decisions regarding production adjustment are
based on samples perfectly representing the entire bulk instead of random samples taken out of buckets with spatulas or spoons. Rotating rifflers like the PT 100 are the most accurate systems available to split up to 5 L of inhomogeneous samples with a wide particle size distribution into 6, 8, or 10 representative sub-samples. The samples are collected in laboratory bottles attached to the divider with a convenient "snap fit" system.
Due to the modular design, the dividing heads are easily interchangeable.

The Vibratory Feeder DR 100 forms a secure and integral part of the divider in order to ensure that it is perfectly centered over the inlet hopper for no-loss feeding. The feed rate is controlled by the sample divider via an interface. Other samplers for larger quantities or manual models are also available from Retsch.

Retsch is a global company dedicated to providing novel technologies and high quality tools for the sample preparation of solids used in R&D and QA applications as well as small-scale production. For more information about Retsch's complete product line of mills and grinders, sample dividers, sieve shakers and
test sieves, and optical particle sizers contact Retsch, Inc. at 17651 Armstrong Avenue, Irvine, California 92614 USA, Telephone: (949) 752-2004; Toll-Free: 1-866-4-RETSCH (1-866-473-8724); Fax: (949) 752-2045; E-mail: info@retsch-us.com;Internet:www.retsch.de

More from Software