Diversified Technologies Develops Permanent Invasive Fish Barrier that Repels Asian Carp Using Pulsed Electric Fields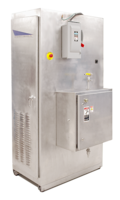 BEDFORD, MASS. (PRWEB) NOVEMBER 18, 2020 - Diversified Technologies, Inc. (DTI) has installed a pulsed electric field (PEF) modulator on the Chicago Sanitary and Shipping Canal (CSSC). Funded by the U.S. Army Corps of Engineers, this permanent barrier is designed to prevent Asian Carp migration into Lake Michigan where they would destroy existing fisheries.
The DTI Electric Fish Barrier is permanently installed in the canal and employs PEF to repel Asian Carp without chemicals or nets that would interfere with shipping traffic. Consisting of the infrastructure required to subject this invasive species of fish to short, high voltage pulses in the milliseconds range at 1 – 6 kV voltage, it operates similar to an invisible dog fence.
Asian carp were originally imported from Southeast Asia to the southern United States to help aquaculture and wastewater treatment facilities keep retention ponds clean. Flooding and accidental releases allowed these fish to escape into the Mississippi River and migrate into the Missouri and Illinois rivers. They seriously damage the native fish populations and lower water quality.
The DTI Electric Fish Barrier is funded by the U.S. Army Corps of Engineers Contract W912P6-18-C-0021 under subcontract to EXP Federal.
For more information contact:
Diversified Technologies, Inc.
Michael A. Kempkes, VP of Marketing
35 Wiggins Ave.
Bedford, MA 01730-2345 USA
(781) 275-9444 x211 FAX (781) 275-6081
e-mail: kempkes@divtecs.com
http://www.divtecs.com
More from Electronic Components & Devices