Distribution Station meets stringent hygiene requirements.
Press Release Summary: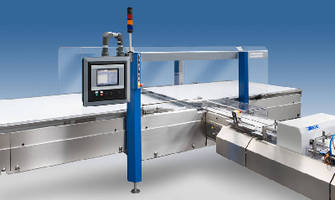 Available in left-hand and right-hand versions, DCI Distribution Station can carry up to 160 rows of bar products per minute and move products from process belt to individual infeed conveyors at up to 70 rows per minute. Tensioner roller, moving parallel to conveyer belt, allows process conveyer belt to be released tool-free due to swivel drive unit. Enabling access for cleaning and maintenance, sub-frame stands clear of floor and panels are removable.
---
Original Press Release:

DCI Distribution Station from Sigpack Systems Meets Stringent Hygiene Requirements



Output up to 160 products per minute

Quick belt change without tools by swivel drive systems

Quick cleaning ensures equipment efficiency

The new DCI distribution station from Sigpack Systems, a Bosch Packaging Technology company features easy access for cleaning and maintenance. The sub frame stands clear of the floor and removable panels provide easy access for cleaning. This configuration allows even dirt-trapping corners can be cleaned by personnel. Designed to meet the most stringent hygiene standards, it is available in both left-hand and right-hand versions.

This allows optimum use of the available production area and gives maximum flexibility if the DCI is integrated with other packaging machinery

Because of its flexibility, the DCI distribution station becomes a highly cost-effective product distribution system (PDS). It can carry up to 160 rows of bar products, chocolate bars, frozen foods or pharmaceutical products per minute. Its transfer capacity - moving the product from the process belt to the individual infeed conveyors of the packaging machinery - can reach up to 70 rows per minute. The rows of product are moved via a guide to a waiting belt, which evens out any irregularities in the product flow. A pusher moves the rows of product against a powered stop on the transverse belt, and it is then transferred to the gap-closing belts.

The small gaps at the belt junctions ensure that product transfer is problem-free. Transfer points that are virtually gap-free are crucial for small bars or biscuits, and result in a marked improvement in machine efficiency.

A tensioner roller, moving parallel to the conveyer belt, allows the process conveyer belt to be released tool free in 20 minutes due to the swivel drive unit. Compared to other machines the swivel drive unit avoids the destruction of the belt.

"The DCI stands apart mainly through its easy cleaning and maintenance. A machine that can be cleaned quickly can be put back into production quickly, and this makes a major contribution to the efficiency of the plant as a whole," says Detlef Gottstein of Sigpack Systems.

About Bosch Packaging Technology

Bosch Packaging Technology is based in Waiblingen and is the leading provider of holistic solutions in packaging and process technology. The Packaging Technology division operates in 15 countries developing, manufacturing and selling modules and systems for pharmaceuticals, confectionery and cosmetics, as well as the food and non-food industries. For more information, please visit www.boschpackaging.com.

Reader contact:

Detlef Gottstein

Product Manager

Tel: +41 52 674 6664

detlef.gottstein@bosch.com

The Bosch Group is a leading global supplier of technology and services.According to preliminary figures, some 282,000 associates generated sales of roughly 45 billion euros in the areas of automotive and industrial technology, consumer goods, and building technology in fiscal 2008.The Bosch Group comprises Robert Bosch GmbH and its more than 300 subsidiaries and regional companies in over 60 countries. If its sales and service partners are included, then Bosch is represented in roughly 150 countries.This worldwide development, manufacturing, and sales network is the foundation for further growth.Each year, Bosch spends more than 3 billion euros for research and development, and applies for over 3,000 patents worldwide.With all its products and services, Bosch enhances the quality of life by providing solutions which are both innovative and beneficial.

The company was set up in Stuttgart in 1886 by Robert Bosch (1861-1942) as "Workshop for Precision Mechanics and Electrical Engineering."The special ownership structure of Robert Bosch GmbH guarantees the entrepreneurial freedom of the Bosch Group,making it possible for the company to plan over the long term and to undertake significant up-front investments in the safeguarding of its future.Ninety-two percent of the share capital of Robert Bosch GmbH is held by Robert Bosch Stiftung GmbH, a charitable foundation.The majority of voting rights are held by Robert Bosch Industrietreuhand KG, an industrial trust. The entrepreneurial ownership functions are carried out by the trust.The remaining shares are held by the Bosch family and by Robert Bosch GmbH.

Additional information can be accessed at www.bosch.com

Related