Distributed I/O System includes motor starters.
Press Release Summary: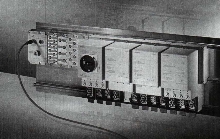 Simatic ET 200pro is available with line starters and reversing starters, both with diagnostics options as well as electronic overload protection. Motors and loads up to 5.5 kW are connected directly to motor starters, which in turn are connected to Simatic ET 200pro distributed I/O system for integration in Profibus or Profinet communications network. Starters have IP 65 protection and are suitable for cabinet-free installation and use directly on machine at local level.
---
Original Press Release:

Distributed I/Os with Motor Starters


Siemens Automation and Drives (A&D) has expanded the Simatic ET 200pro distributed I/O system for "control cabinet free" installation to include motor starters. Setting options of up to 5.5 kilowatts make it possible to cover a wide range of applications with only a few device versions. The Simatic ET 200pro motor starters, which are available as line starters and reversing starters, have extensive diagnostics options as well as electronic overload protection. They are also available with optional brake control. Switching status and motor starter status are displayed via bus and LED.

Motors and loads up to 5.5 kilowatts are connected directly to the new motor starters, which in turn are connected to the Simatic ET 200pro distributed I/O system for integration in the Profibus or Profinet communications network. The motor starters have IP65 protection and are suitable for "control cabinet free" installation and use directly on the machine at the local level. The motor starters are available as line starters and reversing starters, each in a "Standard" and a "High Feature" version. The "High Feature" version of both starters is additionally equipped with four parameterizable digital inputs. Special modules-such as a "repair switch module" which separates downstream starters from the mains or serves as additional short-circuit protection (group fusing) for the downstream loads-round off the new line. The local safety motor starter solution is used for safety-relvant applications. It consists of a local safety repair switch module with parameterizable start and safe input as well as a 400V shut-off module. These components enable a safe shut-down up to Cat. 4 / SIL 3.

The Simatic ET 200pro motor starters are integrated in the Simatic STEP7 engineering software. With STEP7, the motor starters can be very easily configured and parameterized as both Profibus and Profinet nodes. A wide variety of potential groups can be formed and different loads interfaced by means of the flexible connection system on the 400 volt load side.

Additional information is available on the Internet at: www.siemens.de/sirius-motorstarter

More from Software