Distributed I/O System for PLCs offers mixed specialty functions.
Press Release Summary: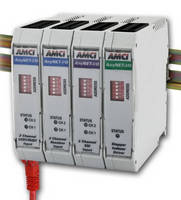 AnyNET I/O series lets users mix and match functions, including stepper motion control and various sensor interfaces, into one solution that is compatible with any networked PLC/PAC. Programmed through host PLC's software, solution supports DIN rail mounting, can be programmed without additional software, and allows mixing and matching of up to 6 AnyNET I/O on one network connection. Design facilitates installation, optimizes network performance, and ensures system integrity.
---
Original Press Release:

Specialty I/O for PLCs Takes Advantage of Networks



Terryville, CT – Advanced Micro Controls Inc. (AMCI), announces the expansion of their Specialty I/O products for PLC-based control systems.  AMCI's AnyNET I/O family is a distributed I/O system that combines hard to find specialty functions with a network interface, simplifying installation and cutting costs. The product family allows users to "mix & match" functions, including stepper motion control and a variety of sensor interfaces, into a single solution. AnyNET I/O is compatible with any networked PLC/PAC and easily programs through the host PLC's software.  The AnyNET I/O's innovative product design simplifies installation, optimizes network performance, and ensures system integrity.



AnyNET Distributed Specialty I/O Features:

• Compatible with any networked PLC or PAC

• Built-in network interface

• Mix & Match up to 6 AnyNET I/O on a single network connection

• Easy programming without additional software

• DIN rail mounting



Simplify Installation and Cut Costs

AMCI's AnyNET products integrate Specialty I/O functionality and a network interface into one, compact package that communicates with the host controller (your PLC or PAC) over the network.  AnyNET products are offered with a variety of network interfaces to ensure compatibility with your PLC or PAC.  The solution easily mounts on a standard DIN rail, simplifying installation and lowering costs.  All programming is performed by the same software used to configure the host PLC/PAC, eliminating the need to learn new software and/or language foreign to your controls environment. 



Modular Design

AnyNET I/O easily expands from 1 to 6 I/O modules by stacking additional units onto the "gateway", and only requires a single network connection for all communication.  This solution allows you to combine different specialty functions on a single network connection, letting you customize powerful automation solutions for any PLC-based application.



Hard to Find I/O Solutions

Integrated Stepper Motor Controller + Drive: Each module provides 1 axis of motion with encoder feedback, allowing you to expand up to 6 axes of motion control on one connection. (http://amci.com/specialty-io/specialty-io-anynet-io-stepper-motion-ang1.asp)



SSI Interface: Each module provides 2 channels, allowing you to interface up to 12 SSI sensors using a single network connection. (http://amci.com/specialty-io/specialty-io-anynet-io-ssi-interface-ane2.asp)



LVDT/RVDT Signal Conditioner: Each module provides 2 channels, allowing you to interface up to 12 LVDT or RVDT sensors using a single network connection. Direct interface to 3-wire, 4-wire, 5-wire, 6-wire, and half bridge LVDT sensors. (http://amci.com/specialty-io/specialty-io-anynet-io-lvdt-rvdt-interface-anr2.asp)



Resolver Interface: Each module provides 2 channels, allowing you to interface up to 12 resolver sensors using a single network connection.  The AnyNET resolver interface is compatible with most resolvers on the market.  (http://amci.com/specialty-io/specialty-io-anynet-io-resolver-interface-ana2.asp)



About Advanced Micro Controls Inc.

Founded in 1985, Advanced Micro Controls Inc (AMCI) is a leading U.S. based manufacturer with a global presence. Our industrial controls improve the performance and profitability of today's factory and automation systems.  AMCI specializes in the design, manufacturing, and sales of eight different product families.  Long standing relationships with the biggest names in industrial automation enable our team to deliver innovative, competitive products that are designed for years of reliable performance. 



Media Contact: Bob Alesio

Telephone: (860) 585-1254 ext.128

Email: balesio@amci.com

Advanced Micro Controls Inc.

20 Gear Drive

Plymouth Industrial Park

Terryville , CT 06786 USA

Telephone: (860)-585-1254

Facsimile: (860) 584-1973

http://www.amci.com

More from Adhesives & Sealants