Distributed Antenna System employs modular architecture.
Press Release Summary: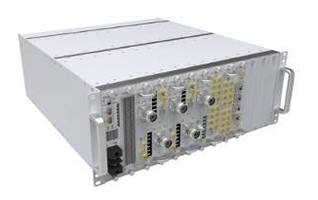 Used to support single carrier and neutral host applications, ADX V provides wireless coverage in multiple dwelling units, commercial buildings, and more. IP66-rated DAS uses one fiber strand to support multiple wireless operators. Along with Web-based monitoring system, features include head end daisy chain capability. Platform allows any combination of 700 MHz, 700/800 MHz public safety, cellular, SMR800, PCS, AWS, WCS, and 2.5 GHz while offering 2, 5, 20, and 40 W output power.
---
Original Press Release:

Advanced RF Technologies, Inc. Launches the ADX V, a Next Generation Distributed Antenna System (DAS)



New DAS platform delivers superior wireless coverage and capacity for multi-carriers in the industry's smallest footprint



AUSTIN, Texas – Verizon Wireless In-Building Technology Update Forum -- Advanced RF Technologies, Inc. ("ADRF" or the "Company"), a leading provider of wireless coverage and capacity solutions, announced today the launch of the ADX V, an evolution of its DAS platform. This new solution uses modular architecture and is ideal for supporting both single carrier and neutral host applications. The ADX V is the most flexible platform on the market that provides a genuinely future-proofed solution allowing consumers to only pay for what they need now. The ADX V provides all the benefits of ADRF's legacy DAS, including modularity, hot-swappable design, user friendly web-based monitoring system, and power consumption efficiency, and it also comes in a significantly reduced form factor. With up to 60% in space saving, the ADX V is not only smaller in dimension but also lighter in weight, which results in a small, more aesthetic enclosure which is simpler to install even in a small telecom closet with limited space.



Featuring unique, patented technologies, the ADX V is ideal for providing wireless coverage for multiple dwelling units (MDU), commercial buildings, large venues and campuses, and metropolitan areas since it can eliminate the need for multiple wireline infrastructure by using a single strand of fiber to support multiple wireless operators.



"Our new ADX V DAS represents not only the culmination of Distributed Antenna System as an advanced technological platform but also one that addresses 21st century demands such as energy, space, and cost efficiency," said Julie Song, President of ADRF.  "The ADX V epitomizes our company's design philosophy of ultimate modularity to enable a perfect fit for virtually any application or venue."



Product Highlights:

--  Flexible platform allows any combination of 700MHz, 700/800MHz Public Safety, Cellular, SMR800, PCS, AWS, WCS, and 2.5GHz

--  Class-leading output power with 2W, 5W, 20W, and 40W in all bands

--  Save up to 60% rack space compared to the previous ADX DAS Series, with improved power efficiency

--  IP66 rated for NEBS compliancy

--  4.3-10 type connectors to mitigate passive intermodulation (PIM)

--  Ability to daisy chain multiple Head Ends to monitor all Head Ends from a single point of interface

--  Supports up to a maximum of 64 Remote Units per Head End

--  Requires only a single strand of single mode fiber per Remote Unit

--  Supports MIMO on all bands, within the same chassis

--  Remote monitoring and control capability using Web-based GUI



The ADX V will be available for commercial deployment in Spring 2016. For product pricing and availability, please contact sales@adrftech.com. ADRF will showcase the ADX V at the Verizon Wireless In-Building Technology Update Forum (IBTUF) on January 19 - 22, 2016. To learn more about the ADX V, visit www.adrftech.com.



About Advanced RF Technologies, Inc.

Advanced RF Technologies, Inc. ("ADRF") is an established, leading provider of in-building equipment and services that improve wireless coverage and capacity for the largest service providers and enterprise customers around the world. ADRF's product suite encompasses distributed antenna systems, repeaters, small cells, antennas, and passive components. ADRF is proud to be certified as a Minority Business Enterprise (MBE) and a Women's Business Enterprise (WBE) and has achieved TL 9000 and ISO 9001 certifications. We are also a member of the HetNet Forum, APCO, IWPC, as well as the Northeast DAS Forum. For more information, please visit http://adrftech.com/.



CONTACT:

Seri Yoon

Director, Marketing 

syoon@adrftech.com

408-821-9304



Web Site: http://www.adrftech.com





More from Electrical Equipment & Systems