Distectool Automatic Balancing Machine features touchscreen monitor.
Press Release Summary: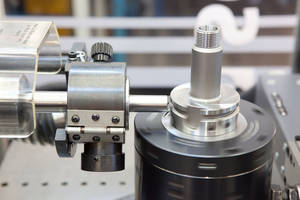 Designed for tool manufacturers for converting balancing process step from manual processing into automated procedure, Distectool Automatic Balancing Machine works with Type CAB 870 measuring instrument. Featuring short spindle distance for easy placement of tool or adapter to be tested, unit meets CE and Machinery Directive 2006/42/EC standards.
---
Original Press Release:
Distec - Automated Tool Balancing for Serial Production
Fully automated balancing in serial production
The new Distectool by Schenck RoTec permits highly efficient balancing of tools
In modern production technology, the high requirements placed on precision and process reliability can frequently no longer be fulfilled using manually balanced tools. Schenck RoTec therefore developed its new Distectool for the fully-automated balancing of tools and tool adapters. With this vertical balancing machine, the company provides a highly-efficient system solution for the serial production of precision tools.
Manufacturers of tools and tool adapters for production technology are likely to find the new Distectool by Schenck RoTec highly appealing. With this vertical balancing machine Schenck RoTec is offering an efficient system solution aligned with the economical balancing of small and large series of precision tools and adapters. The new Distectool is an attractive and compact complete solution especially designed for tool manufacturers wishing to convert the balancing process step from manual processing into an automated procedure. And this machine is particularly appealing, as Schenck RoTec has succeeded in combining the three central factors: high balancing precision, short cycle times and excellent price/performance ratio
Ergonomic and safe
All operating elements on the Distectool as well as the measuring device with its touchscreen monitor are located on the main operating interface of the machine, which is within easy reach. The exceptionally short spindle distance supports the easy deposition of the tool or adapter to be tested. The working height is ideally dimensioned, and the obligatory protection device closes automatically over the work area. As soon as the workpiece is inserted, the entire balancing process runs fully automatic. The result is a precisely-balanced tool which fulfils the optimal requirements on accuracy.
During the development of the new Distectool, Schenck RoTec realized a modern, lightweight construction concept. Energy-efficient drives were used and typical ineffective hydraulic and cooling systems were eliminated. Therefore, this system has a small footprint and can easily be integrated into existing production lines. In addition, it is designed as a crane hook machine, meaning that it is easy to relocate and can quickly be adapted to changing space requirements.
A precise result, quickly achieved
The new Distectool works using a measuring device of the Type CAB 870 from the Schenck RoTec portfolio. It permits users the simple, direct touchscreen input of tool data, and boasts a logical-intuitive operating concept. Clear, displays and operating aids guide Distectool users rapidly through the balancing process right up to the accurate result. Here the intuitive measuring device offers proven algorithms for the complex unbalance correction, different methods for the display of results, recording and documentation, and the option of evaluating statistical characteristics all in one unit.
Schenck RoTec has created the overall concept for the new Distectool so that it is profitable to convert to an automated balancing process even for small tool or tool adapter production. The users are able to define the degree of automation themselves. Here the options range from the use of a handling system for loading and unloading right up to the integration of adaptive, collaborative robot systems.
The Distectool by Schenck RoTec fulfils all requirements of the Machinery Directive 2006/42/EC, valid since 2010, and is CE-certified. Its protective housing accords with the requirements in the ISO 21940-23:2012-09, Class C20 : Protection against flying parts.
Schenck RoTec is world market leader in the field of balancing and diagnostics technology and has 17 subsidiaries and joint ventures with seven production centers. 44 representatives and offices join on all five continents. The Schenck RoTec group supplies innovative technologies to such important industries like the automotive and supply industry, the electrical and electronics industry, aerospace, power station engineering and mechanical engineering.
The Dürr Group is one of the world's leading mechanical and plant engineering firms with outstanding automation expertise. Products, systems and services offered by the Group enable highly efficient manufacturing processes in different industries. Dürr supplies not only the automotive industry but also other sectors such as the mechanical engineering, chemical and pharmaceutical industries, and since the takeover of HOMAG Group AG in October 2014 - the woodworking industry. Dürr has 92 business locations in 28 countries. With around 15,200 employees, the Group generated sales of $ 3.57 billion in 2016. The Group operates in the market via five divisions:
Paint and Final Assembly Systems: Paint shops and final assembly systems for the automotive industry
Application Technology: Robot technology for the automated application of paint, sealants and adhesives
Measuring and Process Systems: Balancing and cleaning equipment as well as assembly, testing and filling technology
Clean Technology Systems: Exhaust-air purification systems and energy efficiency technology
Woodworking Machinery and Systems: Machinery and equipment for the wood-processing industry
Contact:
Tarek El-Sawaf
Director Business Development
Schenck Trebel Corporation
535 Acorn St.
Deer Park, NY 11729
Phone: 631-242-4010
Tarek.el-sawaf@schenck-usa.com
Url: http://www.schenck-usa.com
More from Software