Disposal System drains aerosol cans for recycling.
Press Release Summary: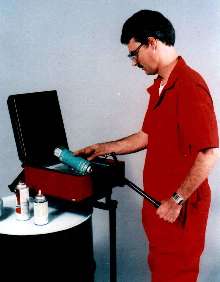 Mounted on 20, 30, or 55 gal drums, AEROVENT 3 puntures and drains up to 3 aerosol cans in less than 10 sec. Fluids collect in drum, and cans may be disposed of as scrap steel. Non-sparking design includes carbide piercing tips and anti-static grounding cable. Built from structural steel, unit totally encloses cans being punctured, while vent carbon filter eliminates VOC and hydrocarbons from being released into atmosphere.
---
Original Press Release:

Aerovent 3, Dispose of Your Aerosol Cans Fast and Safely...


The new AEROVENT 3 from NEWSTRIPE is the perfect solution to the high cost of disposing of aerosol cans as a hazardous waste.

Simply mount the AEROVENT 3 on any 30 or 55-gallon drum. Insert up to 3 aerosol cans, close the lid, lower the handle and you no longer have a hazardous material. In less than 10 seconds the AEROVENT 3 has punctured and drained the cans. The fluids collect in the drum, and the cans may now be disposed of as scrap steel.

The AEROVENT 3 is:
o ECONOMICAL - After using the AEROVENT 3 your cans are no longer considered hazardous material and may be sent to the landfill or recycled as scrap steel. The AEROVENT 3 will pay for itself after just a few hours of use.

o CONVENIENT - The AEROVENT 3 mounts on any standard 20, 30 or 55-gallon drum.

o FAST - In less than 10 seconds the AEROVENT 3 will punctures up to three cans at a time. It is faster than systems costing thousands of dollars more.

o SAFE - The AEROVENT 3 non-sparking design includes carbide piercing tips and anti-static grounding cable. The unit totally encloses the cans being punctured keeping the operator out of harms way. Plus, the vent filter eliminates VOC and hydrocarbons from being released into the atmosphere and being inhaled by the operator.

o RUGGED - This massive unit's housing is built from structural steel, and is built to last. The AEROVENT 3 can handle all the use and abuse you can dish out.

o ENVIROMENTALLY FRIENDLY - The AEROVENT 3 activated carbon filter prevents any hydrocarbons from being released into the atmosphere and the recovered fluids and cans may be recycled.

For further information visit our web site www.newstripe.com
Or contact Newstripe, Inc
1700 Jasper St Unit F
Aurora CO 80011
1-800-624-6706

More from HVAC