Disposable Syringe Barrels withstand up to 356°F for 8 hours.
Press Release Summary: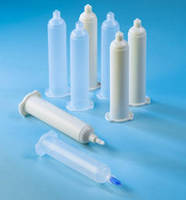 Featuring 30 cc capacity, Unity™ HiTemp™ Syringe Barrels come in 2 models. Standard version, able to withstand 257°F for 8 hours at up to 87 psi, can be used with all hot melt adhesives, including moisture cure PURs and SMPs. Extreme HiTemp model withstands 356°F for 8 hours at up to 100 psi. It blocks UV light between 200–500 nm and is suited for use with polyamides and other types of hot melts. Both are compatible with Nordson EFD Optimum® metal dispense tips, adapters, and end caps.
---
Original Press Release:

Nordson EFD Introduces Unity HiTemp Disposable Syringe Barrels that Withstand up to 180°C for Eight Hours



The 30cc barrels produce more reliable, repeatable hot melt dispensing with a lower cost of ownership and less material waste



East Providence, RI USA -- Nordson EFD, a Nordson company (NASDAQ:NDSN), the world's leading precision fluid dispensing systems manufacturer, introduces Unity™ HiTemp™ syringe barrels. These disposable 30cc barrels reduce the downtime and maintenance costs often associated with aluminum barrels commonly used in the pneumatic dispensing of hot melt adhesives.



The barrels are available in two models: a standard HiTemp syringe barrel that withstands 125° C (257° F) for eight hours at up to 87 psi (6 bar) and an Extreme HiTemp syringe barrel that withstands 180° C (356° F) for eight hours at up to 100 psi (7 bar). The standard HiTemp barrels can be used with all hot melt adhesives, including moisture cure polyurethanes (PURs) and silyl modified polymers (SMPs). The Extreme HiTemp barrels can be used with polyamides and other types of hot melts, and block UV light between 200 and 500 nm.



Both models are compatible with all Nordson EFD Optimum® metal dispense tips, adapters, and end caps. An Extreme HiTemp tip cap is available for applications above 125° C.



All Unity syringe barrels are compatible with Nordson's Unity IC Series and Unity PURJet™ 30 dispensing systems, and other standard industry hot melt dispensers.



"Engineered with materials that withstand high temperatures, Nordson EFD's Unity HiTemp disposable syringe barrels for hot melt dispensing offer a better cost of ownership with less adhesive waste than current available options," said Brian Dodier, product manager, Nordson EFD.



For more information visit Nordson EFD on the web at nordsonefd.com/syringe_barrels, twitter.com/NordsonEFD, or linkedin.com/company/nordson-efd, email info@nordsonefd.com,  or call +1 401.431.7000 or 800.556.3484. For Nordson EFD LLC sales and service in over 30 countries, contact Nordson EFD or go to www.nordsonefd.com.



About Nordson EFD

Nordson EFD designs and manufactures precision fluid dispensing systems for benchtop assembly processes and automated assembly lines. By enabling manufacturers to apply the same amount of adhesive, lubricant or other assembly fluid to every part, every time, EFD dispensing systems are helping companies in a wide variety of industries increase throughput, improve quality, and lower their production costs. Other fluid management capabilities include high-quality syringe barrels and cartridges for packaging one- and two-component materials, along with a wide variety of fittings, couplers and connectors for controlling fluid flow in medical, biopharmaceutical and industrial environments. The company is also a leading formulator of specialty solder pastes for dispensing and printing applications in the electronics industry.



About Nordson Corporation

Nordson engineers, manufactures and markets differentiated products and systems used for dispensing and processing adhesives, coatings, polymers, sealants and biomaterials; and for managing fluids, testing and inspecting for quality, treating surfaces and curing. These products are supported with extensive application expertise and direct global sales and service. We serve a wide variety of consumer non-durable, consumer durable and technology end markets including packaging, nonwovens, electronics, medical, appliances, energy, transportation, building and construction, and general product assembly and finishing. Founded in 1954 and headquartered in Westlake, Ohio, the company has operations and support offices in more than 30 countries. Visit Nordson on the web at www.nordson.com, www.twitter.com/Nordson_Corp  or www.facebook.com/nordson.



Nordson EFD, LLC



Global

Natalie Tomasso

(401) 431-7173

Natalie.Tomasso@nordsonefd.com



Headquarters

40 Catamore Boulevard

East Providence, RI USA



USA & Canada: 800-556-3484;

+1-401-431-7000

info@nordsonefd.com



Europe

+44 (0) 1582 666334

europe@nordsonefd.com

More from Packaging Products & Equipment