Display Unit/Register is used with transducers.
Press Release Summary: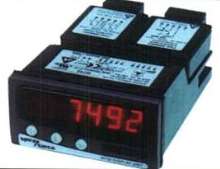 Suitable for local condition monitoring, panel-mount Model M750 accepts inputs from sensors, displays signal, and transmits it on to higher level control. It provides indication of flow rate and totalized flow. Unit can be used in stand-alone configuration or as part of larger system with Modbus serial communications. It accepts option pods, and with 2 relay outputs per pod, has flexibility to configure pulsed totalizing signal and high- or low-flow alarm.
---
Original Press Release:

New Panel Mount Display Unit/Register for Transducers Introduced


BLYTHEWOOD, SC - The Spirax Sarco M750 Display Unit/Register can accept inputs from a wide variety of sensors, display the signal and transmit it on to higher level control. This capability makes the M750 highly useful in mechanical rooms, plant floor supervisory stations and related locations for local condition monitoring.

The M750 Display Unit can be used with flowmeters such as Spirax Sarco Gilflo, ILVA, DIVA, orifice plates and vortex flowmeters. It can provide an indication of flow rate and totalized flow. The unit can be used in a stand-alone configuration or, with Modbus serial communications, as part of a larger system. The unit incorporates 24-VDC loop power to supply 4-20 mA transducers where required. The M750 Display Unit can accept 'option pods,' either a single isolated 4-20 mA retransmission pod or a pair of dual normally open alarm relay pods. Once an option pod is added to the M750, the unit automatically detects it and prompts the user for the appropriate data during commissioning.

With two relay outputs per pod, the unit has the flexibility to configure both a pulsed totalizing signal and a high-or low-flow alarm. The user has a choice of either 4- or 2-wire RS-485 serial communications, allowing for configuring two digital inputs. The digital inputs add the flexibility for supervisory-level functions such as resetting latched alarms or resetting totals. The alarm can be configured to either latch until reset (remotely with RS-485 communications) or release when the flow rate reestablishes within the setpoint range. The M750 is fully programmable for any specific application from the front panel. The totalizer function enables nonvolatile storage of the integrated total to be maintained within the unit, even after loss of power.

Spirax Sarco

Spirax Sarco is the world's leading provider of steam system solutions, dedicated to providing knowledge, service and products for the control and efficient use of steam and other industrial fluids. With over 90 years of experience, Spirax Sarco has both the resources and capabilities to meet customers' total system needs.

Contact

Dawn Cartwright
Marketing Communications
Supervisor
Spirax Sarco, Inc.
Tel. 803-714-2072
Fax 803-714-2224
EMail dcartwri@spirax.com
www.spiraxsarco.com/us

More from Machinery & Machining Tools