Display Processor displays video signals on multiple screens.
Press Release Summary: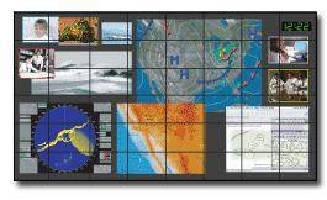 By combining up to 4 MediaWall® units, SuperWall(TM)'s control software can create displays with up to 120 windows arranged over up to 48 screens. Parallel processing architecture can scale up as necessary, while maintaining picture quality. SuperWall offers Java-based web control interface that supports all functions of MediaWall processors including SinglePoint(TM)KvM software for controlling computers displayed on wall with single mouse and keyboard.
---
Original Press Release:

RGB Spectrum's New SuperWall Shows the Big Picture



Alameda, CA - RGB Spectrum announced the release of SuperWall(TM), the latest addition to the company's family of MediaWall® display processors. By combining up to four MediaWall® units, the SuperWall's easy-to-operate control software can create displays with up to 120 windows arranged over up to 48 screens.

"The launch of the SuperWall propels RGB Spectrum into the large wall arena." said Arndt Schrader, product manager for videowalls. "The SuperWall takes the MediaWall processor's flawless visual resolution, reliable signal integrity, and real-time visualization capability and scales it up. This will greatly interest our customers across all industry sectors."

The SuperWall's parallel processing architecture can scale up as necessary, while maintaining impeccable picture quality-- no pixel dropped, no frame lost. SuperWall can handle up to four MediaWall 4500 or MediaWall 4200 processors. It offers a Java based web control interface that supports all functions of the MediaWall processors including SinglePoint(TM)KvM, the company's industry leading software for controlling computers displayed on the wall with a single mouse and keyboard.

RGB Spectrum® is a leader in videographic and decision support system technologies. Products include the View(TM) family of video windowing systems, MediaWall® multi-screen display controllers, Linx(TM) matrix switchers, DGy(TM) digital recording system, DSx(TM) H.264 streaming and recording codecs, MultiPoint KvM(TM) control room decision support systems, and SynchroMaster® keyers and overlayers. RGB Spectrum is based in Alameda, California, and can be reached at 510-814-7000 and on the internet at www.rgb.com.

© 2011 RGB Spectrum

More from Packaging Products & Equipment