Display Glass Solutions can be used for touch panels.
Press Release Summary: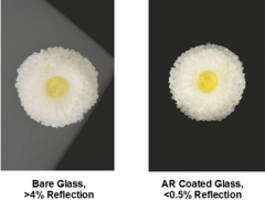 Display Glass Solutions are suitable for cover glass on displays, 2D-3D scanners and image sensors. Unit is offered in non-glare and anti-reflective variants. Non-glare sheet sizes are available up to 78 in. x 46 in. and thickness of 1.1, 1.9 and 3.0mm for non-glare soda lime. Non-glare sheet comes in gloss levels of 60, 90 and 120. AR coated sheet sizes are offered up to 126 in. x 88 in. and in thickness of 0.7 to 3.0mm.
---
Original Press Release:
Sunlight Readable Non-Glare & Anti-Reflection Display Glass Solutions
Abrisa Technologies now offers an expanded range of standard stock non-glare (NG), anti-reflection (AR), and anti-reflection coated non-glare (NG/AR) glass solutions that are ready to be custom fabricated and screen printed to your exacting specifications.
According to Lisa Tsufura, Product Manager, "Display designers and integrators now have 3 top-notch options available to meet their requirements for sunlight readability and reduced reflection and glare while providing throughput efficiency for maintaining display screen brightness and image quality. NG glass, ideal for ultra-wide angle/wide spectrum use, AR coated glass for maximum display brightness and sharpest image quality, and NG/AR glass with the benefits of both."
Ready-to-fabricate non-glare sheet sizes are available up to 78" x 46" and in thicknesses of 1.1, 1.9 and 3.0mm for non-glare soda lime in gloss levels of 60, 90 and 120. The non-glare glass can be provided 1 or 2 sides and is available in low iron, low sparkle. Additional options include AR coating of 1 or 2 sides and damage resistant HIE™ strengthened aluminosilicate glass in lieu of soda lime for increased durability.
Ready-to-fabricate AR coated sheet sizes are available up to 126"x 88" and in thicknesses of 0.7 to 3.0mm. The AR coating can be 1 or 2 sided with options available for oleo/hydrophobic performance. The AR coatings can be applied to SCHOTT Borofloat®, non-alkaline Corning® Eagle XG®, SCHOTT D263® thin glass, AGC EN-A1 thin glass, HIE™ chemically strengthened SCHOTT AS 87, Corning® Gorilla® Glass, and AGC Dragontrail™.
Non-glare and anti-reflective glass each offer unique solutions for cover glass on displays, touch panels, 2D-3D scanners and for image sensors. Determining which to select is based upon the specific performance feature desired:
Throughput
Viewing Angle
Reflectance per Side (Photopic Specular)
Spectral Usage Range
Clarity and Resolution
Ghosting
Touch Glide
Glass Material
Strengthening
Lastly, Lisa states, "Abrisa Technologies' expanded offering of sunlight readable and non-glare and anti-reflection display glass combined with its suite of special effects mirrors and beam splitters, screen printed graphics, applied films, strengthening, and oleo/hydrophobic AR coatings, gives OEMs and integrators access to the most comprehensive offering of ready-to-fabricate display glass solutions meeting all of their display glass requirements."
Abrisa Technologies is a recognized, US based, global supplier of high quality, fabricated glass components, optical thin film coatings, and custom glass solutions for diverse industries such as microelectronics and displays, semiconductor, military, automotive, aerospace, biomedical, telecom and scientific R&D. We provide custom flat glass and coating products for applications such as: flat panel display, touch and gesture recognition, imaging and surveillance, entertainment, lighting, advanced instrumentation and photonics.
Contact:
Lori Appel
Marcomm Manager
Abrisa Technologies
200 S. Hallock Dr.
Santa Paula, CA 93060
Phone: 805-525-4902
Email: marcom@abrisatechnologies.com
More from Materials