Display Fastening System uses aluminum profiles and connectors.
Press Release Summary: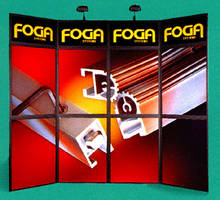 With aluminum profiles, connectors, hinges, and accessories for FOGA® Exhibit and Display Fastening System, radii can be created to accommodate curvature of almost any inside, outside, or arch radius application without causing profile deformation. Infinitely variable 360° Hinge permits displays to swing through 360° arc without diminishing strength of fastening system. Components are available in anodized clear, black gold, and brite powder coated finishes.
---
Original Press Release:

Outwater Introduces New Aluminum Profiles, Connectors and Accessories for its FOGA® Exhibit & Display Fastening System



Bogota, NJ (www.outwater.com) — Outwater's [Outwater Plastics Industries, Inc. + Architectural Products by Outwater, LLC] FOGA® Exhibit & Display Fastening System has been used and recognized worldwide as the "Industry's first Aluminum Component System" since 1971 in applications ranging from simple decorative display partitions to highly complex structural two tiered exhibit systems.



Comprising newly introduced aluminum profiles, connectors, hinges and accessories, Outwater has enhanced its manufacturing and production capabilities of FOGA® with its recently improved ability to create radii that can further accommodate the curvature of almost any inside, outside or arch radius application without causing any profile deformation, enabling designers, exhibitors and contractors the freedom, flexibility and versatility to easily create and realize custom permanent and semi-permanent exhibits, displays, gazebos, kiosks, wall and store fixtures, interconnected display board panels as well as complete exhibit systems for use in all types of environments.



FOGA® is built around a simple connecting device that rapidly joins extrusions with the use of only one tool, an Allen key, designed to provide a simple yet effective locking technique while minimizing labor and material costs.



Available in anodized clear, black gold and brite powder coated finishes, all components of FOGA® are intended to complement each other.



FOGA®'s unique and infinitely variable 360° Hinge is a remarkable feat of design and engineering, permitting displays to swing through a 360° arc without diminishing the strength of the rest of the fastening system.  The 360° Hinge enables a single person to set up and take down any number of display walls, which fold flat for easy transportation.



Outwater also offers panels for displays.  Constructed from Gatorfoam®, the displays are available with an applied Velcro compatible velvet loop fabric in numerous designer colors, lending them to any décor.  Available in standard 4-ft. x 8-ft. sheets, the displays can be custom manufactured to suit a variety of applications.



Outwater's FOGA® Exhibit & Display Fastening System is designed to be compatible for use with industry standard hardware and accessories.



For further product information, please click the enclosed links:



Link #1: Outwater's FOGA® Exhibit & Display Fastening System

http://www.outwatercatalogs.com/lg_display.cfm/catalog/Master_2012?useSearchForm=single&page=156



Link #2: Outwater's FOGA® Exhibit & Display Fastening System

http://www.outwatercatalogs.com/lg_display.cfm/catalog/Master_2012?useSearchForm=single&page=157



Link #3: Outwater's FOGA® Exhibit & Display Fastening System

http://www.outwatercatalogs.com/lg_display.cfm/catalog/Master_2012?useSearchForm=single&page=158



Link #4: Outwater's FOGA® Exhibit & Display Fastening System

http://www.outwatercatalogs.com/lg_display.cfm/catalog/Master_2012?useSearchForm=single&page=159



About Outwater [Outwater Plastics Industries, Inc. + Architectural Products by Outwater, LLC]: Outwater can be contacted Toll Free at 1-800-631-8375 (For sales and product information in the USA & Canada) / 1-201-498-8750 (For sales and product information outside of the USA & Canada) or viewed online at www.outwater.com



From the vendor of a single product in August 1972, Outwater, with sales and distribution facilities in New Jersey and Arizona, is recognized today as a well established international manufacturer and stocking distributor of more than 65,000 standard and innovative component products required by woodworkers, cabinet and furniture manufacturers, builders, remodelers, designers, architects, point-of-purchase and display fixturing manufacturers, OEM's, as well as a diversified range of other commercial and retail end users.



Major Product Categories include Plastic & Aluminum Extrusions; Lighting and Lighting Accessories; Furniture, Cabinet & Store Fixture Components; Knobs & Pulls; Casters; Fasteners; Laminates; The FOGA Exhibit & Display Fastening System; The Klem Connector; Literature Displays; Slatwall; Sign Holders; P.O.P Components; Display Motors & Turntables; Pedestals; Injection Molded Parts; Brass Tubing & Fittings; Surfacing Materials; Interior & Exterior Polymer & Wood Architectural Mouldings & Millwork; ORAC DECOR and DEM Architectural Mouldings & Millwork; Columns & Capitals; Balustrading; Wrought Iron Components; Decorative Stamped Steel & Polymer Ceiling Panels; Wainscoting; Wall Coverings; Fireplace Surrounds; Plastic "Glass" Block; Period & Contemporary Hardware; Kitchen & Bath Accessories; Kitchen & Bath Cabinetry and Vanities… and so much more!



Contact:

Joey Shimm, Director of Marketing

Outwater Plastics Industries, Inc. + Architectural Products by Outwater, LLC

(201) 498-8750



Abridged Contact Information:



OUTWATER PLASTICS INDUSTRIES, INC. +

ARCHITECTURAL PRODUCTS BY OUTWATER, LLC



Catalog Requests:

1-888-772-1400 (US)

1-888-333-0408 (Canada)

1-201-498-8750 (Outside of US & Canada)



Sales & Product Information: 1-800-631-8375 / 1-201-498-8750

Fax: 1-800-888-3315 / 1-201-498-8751



Outside of the USA & Canada Sales & Product Information: 1-201-498-8750

Outside of the USA & Canada Fax: 1-201-498-8751



Email: info@outwaterplastics.com

Web site: www.outwater.com

More from Agricultural & Farming Products