Display Driver is optimized for GIP-based LCD TVs.
Press Release Summary: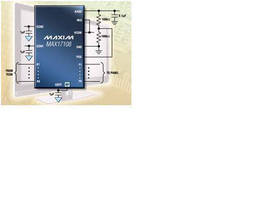 Integrating high-speed operational amplifier to drive LCD backplane (VCOM), model MAX17108 enables implementation of gate-in-panel (GIP) technology in LCD panels. It includes 10-channel, level-shifting scan driver that can swing from -12 to +38 V and drive capacitive loads, and one linear regulator to provide internal bias for step-up controller. Amplifier features rail-to-rail outputs, ± 200 mA output short-circuit current, 100 V/µs slew rate, and 20 MHz bandwidth.
---
Original Press Release:

High-Performance Level-Shifter Solution for LCD TVs with Gate-in-Panel (GIP) Technology



o The MAX17108 is a 10-channel, level-shifting scan driver with an integrated operational amplifier for gate-in-panel (GIP) LCD TVs and monitors.

o Developed using Maxim's proprietary, high-voltage BiCMOS process, this device provides a high-performance level-shifter solution that enables the use of GIP technology in LCD panels.

o The MAX17108 is optimized for GIP-based LCD TVs and monitors.

SUNNYVALE, CA-January 29, 2009-Maxim Integrated Products (NASDAQ: MXIM) introduces the MAX17108, a high-performance level-shifter solution that enables the implementation of GIP technology in LCD panels. Developed using Maxim's proprietary, high-voltage BiCMOS process, this device integrates a 10-channel, level-shifting scan driver that can swing from -12V to +38V and swiftly drive capacitive loads; a high-speed operational amplifier to drive the LCD backplane (VCOM); and a linear regulator to provide the internal bias for the step-up controller. Optimized for GIP-based LCD TVs and monitors, the operational amplifier features rail-to-rail outputs, a ±200mA output short-circuit current, a 100V/µs slew rate, and a 20MHz bandwidth.

The MAX17108 is available in a 5mm x 5mm, 28-pin TQFN package and is fully specified over the -40°C to +85°C extended temperature range. Prices start at $2.00 (1000-up, FOB USA).

Maxim Integrated Products is a publicly traded company that designs, manufactures, and sells high-performance semiconductor products. The Company reported revenue in excess of $2 billion for fiscal 2008. Maxim was founded over 25 years ago with the mission to deliver innovative analog and mixed-signal engineering solutions that add value to its customers' products. To date, it has developed over 5900 products serving the industrial, communications, consumer, and computing markets. For more information, go to www.maxim-ic.com.

Customer Service: 1-800-998-8800

More from Material Processing