Display Console flush mounts to marine bridges.
Press Release Summary: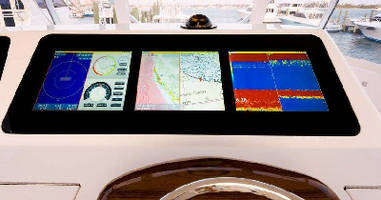 Suitable for multiple sunlight readable displays, Glass Pod Helm Package comes in 15, 17, 19, 21, and 22 in. wide screen models and integrates with all brand name blackbox navigation systems. Flush-mount units are watertight in front and provide rear access for servicing displays. Pods feature standard glass treatment with less than 1% anti-reflection coating, chemically strengthened glass for impact and scratch resistance, and seamed edge treatment to prevent chipping.
---
Original Press Release:

Kep Marine Announces Glass POD HELM Package



Innovative Designer and Manufacturer of Industry-Leading Sunlight Readable Displays Introduces Elegant and Simple-to-Install Solution for Flush Mounting Monitors into a Streamlined Bridge

Eatontown, N.J. - Kessler-Ellis Products (KEP) Marine, the manufacturer of industry-leading marine sunlight readable displays, and high-quality marine hardware and software products, announced today its innovative Glass Pod helm package. Easy to install, KEP's Glass Pod custom mounting solution adds a sleek and sophisticated appearance to any console or bridge. Ideal for multiple sunlight readable displays, the Pods can be tailored to meet all helm dimensions. Available in 15-, 17- 19-, 21 and 22-inch wide screen models, the Glass Pods integrate with all brand name blackbox navigation systems for complete customization. The new Glass Pods from KEP Marine deliver a stunning, modern aesthetic look and streamline electronics into a workable station for the most discerning boat captains and owners.

KEP Marine's new Glass Pods feature a revolutionary design with uniquely bonded layering and precision laser engineering. While its construction is a complex process, the result is a seamless, easy-to-integrate system that provides boatbuilders and installers with unparalleled flexibility and significant time savings. Allowing multiple displays to fit side by side in small areas and curved consoles, the Glass Pods can simply be dropped into existing consoles, rather than requiring labor-intensive, build-around efforts common to existing glass pod systems.

"The KEP Marine Glass Pods have that "WOW" factor-providing a stunning, aesthetically pleasing look while enhancing boaters' overall navigation experience," said Keith Cariani, sales manager, KEP Marine. "Our helm package delivers the ultimate customization and flexibility, even in limited spaces, to provide a sophisticated big boat feel on small center console vessels. In addition to the Pod's end-user benefits, its versatile installation and innovative design allows for simple integration, even in curved consoles, without requiring extensive carpentry-saving huge amounts of installation time resulting in lower costs. Our new Glass Pods are sure to be a crowd pleaser with boaters and builders alike."

The flush-mount KEP Marine Glass Pods are watertight in the front and provide rear access for servicing displays. Ideal for pilothouses or fly bridges, the Pods feature a standard glass treatment with less than 1% anti-reflection coating, chemically strengthened glass for improved impact and scratch resistance, and a seamed edge treatment to prevent chipping as well as improved safety during handling. The Glass Pods are equipped with a proprietary dry film technology, and have high-strength lamination with optical transmission less than 97%, no double refraction (birefringence) and are completely repairable. KEP Pods are also compatible with multiple switching devices for easy source selection, as well as KEP Marine Bridgeview, AMX or any RS-232 control system for convenient management of displays from one or more stations. While KEP Marine Pod specifications vary based on display size, each package is fully customizable to meet boaters' specific needs, includes clamp mounts and hardware, and is protected by a 2-year worldwide advanced replacement warranty.

The KEP Marine Glass Pods have suggested retail prices starting at $15,000 US, and can be purchased from authorized KEP Marine dealers and distributors throughout the United States and Canada. KEP Marine's design team also offers perspective and experience for installation, and will customize Glass Pod systems to meet customer needs and expectations. For more information on the new KEP Marine Glass Pods or the entire line of KEP marine electronics, contact 800-631-2165 (toll-free) in the USA or visit www.kepmarine.com.

About KEP Marine:

KEP has designed and manufactured high-quality industrial hardware and software products for over fifty years. Entering the marine market ten years ago with innovative vessel monitoring systems, the company now offers industry-leading marine sunlight readable displays, glass bridge displays, monitor management interfaces, marine computers, multimedia systems, and video recording and security systems. Known for providing top-of-the-line, highly reliable products and integrated solutions, as well as unparalleled support and warranty protection, KEP works with over one hundred distributors and representatives worldwide. www.kepmarine.com

More from HVAC