Display Backer Board is fire-retardant.
Press Release Summary: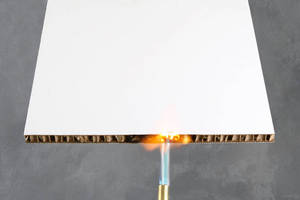 Falconboard(TM) Build display board, structurally engineered for 3D point-of-purchase applications, features paper core, water-based adhesives, and clay-coated outer surface. Lightweight product resists bending or warping and is heat-resistant to 300°F. It accommodates most inks and adhesives as well as commercial connective systems such as edge tape and plastic or metal edging/channels. Rigid structure supports wide-web flexographic and rotogravure printing.
---
Original Press Release:

Pregis Hexacomb® Intros Fire-Retardant Version of Its Falconboard(TM) Build Graphic Display Board



Deerfield, Ill. - Pregis Hexacomb is introducing a fire-retardant (FR) version of its Falconboard(TM) Build display board. The option has been engineered to provide a higher level of performance for those applications requiring a fire-rated material. The new FR grade is ideally suited as a display material for use at trade shows, theaters, amusement parks, retail shopping areas and other environments which have to comply with stringent fire codes.

The material has passed the National Fire Protection Agency's 701 flame propagation test as well as the ASTM-E84 surface burning protocol. Additionally, the FR grade has met the fiber-sourcing certification standards set by the Sustainable Forestry Initiative®.

"We believe that this is the first 100% paper display board with a standard clay-coated surface that is also fire rated. Other paper products typically achieve fire-retardant properties by adding a layer of aluminum foil or by having an inferior non clay-coated printing surface. The FR grade maintains the printing benefits of clay coating coupled with the environmental attributes of an all-paper structure," explained Scott Daniel, vice president of operations, Hexacomb.

Falconboard Build has been structurally engineered for demanding three-dimensional, point-of-purchase applications. The FR grade provides a superior paper-based rigid structure for wide-web flexographic and rotogravure printing.

The Falconboard line features an engineered paper core and water-based adhesives. The outer surface is clay-coated board to facilitate printing. Produced chlorofluorocarbon-free, zero volatile organic compounds (VOCs) are emitted during manufacturing. The 100% paper-based product is made from renewable resources (up to 40% recycled fiber content) and is recyclable to provide the perfect blend of structural performance and environmental stewardship.

"We've developed a patent-pending process to produce the new structure. In simple terms, we impregnate the engineered paper core with a flame retardant and leave the clay coated print surface untouched for optimum printing quality. When Falconboard is exposed to fire, it does not ignite," Daniel said.

At the end of its lifecycle, POP displays made from fire-retardant Falconboard products can simply be included in the facilities' paper waste stream. Most have paper compactors on site which bale paper-based products for sale to a recycler.

Additionally, Falconboard(TM) resists bending or warping, is heat-resistant to 300 degrees Fahrenheit and is lightweight. The display board accommodates most inks and adhesives, as well as commercial connective systems such as edge tape and plastic or metal edging/channels. Printing capabilities include a variety of wide formats and digital processes.

About Hexacomb:

Pregis Hexacomb is a leading supplier of paper-based protective packaging and serves key industries which value product protection coupled with environmental sustainability. This includes furniture, consumer, automotive, textile, food, building products, energy, glass and industrial. Hexacomb has nine manufacturing plants in North America and three in Europe. For more information about Hexacomb visit www.hexacomb.com.

About Pregis:

Pregis Corporation is a leading global provider of innovative protective, flexible, and foodservice packaging and hospital supply products. The company offers packaging and product solutions for a wide variety of consumer and industrial market segments including food and foodservice, healthcare, agriculture, automotive, furniture, electronics, construction, fulfillment, catalog and military/aerospace. The specialty-packaging leader currently operates 47 facilities in 18 countries around the world. For more information about Pregis, visit www.pregis.com.

Please forward sales inquiries to:

Pregis Corp.

1650 Lake Cook Road, Ste. 400

Deerfield, IL 60015

Phone: (877) 692-6163

Email: protectivesales@pregis.com