Position Sensors / Detectors / Transducers
Displacement Transducers incorporate electronics.
Press Release Summary: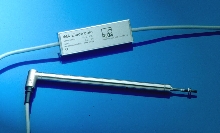 WA-Electronic series of inductive displacement transducers provide 0 to 10 Vdc output signal via in-line electronics. Models include plunger and spring-loaded probe configurations. All have stainless steel construction and handle temperatures up to 300 deg F, making them able to handle harsh industrial environments and wash-down situations. Eight standard measuring lengths are available, from 0.08 to 19.7 in. Sensor can also be built into hydraulic cylinder.
---
Original Press Release:
Space-Saving Displacement Transducers with Integral Electronics

Marlborough, MA - March 22, 2002 - HBM, Inc., a leading global supplier of test and measurement technology, data acquisition systems and software, introduces the WA-Electronic series of inductive displacement transducers. The new, easy-to-use transducer family provides a convenient 0-10 VDC output signal through its in-line electronics. Models include both plunger and spring-loaded probe configurations.

The WA's innovative design allows its package length to be up to 40% shorter than LVDTs with the same measuring range. With its rugged, stainless steel construction and models to handle temperatures up to 150 deg C (300 deg F), the WA is well equipped to handle harsh industrial environments and wash-down situations. It also features excellent linearity (0.2% FS) and superior temperature stability.

Eight standard measuring lengths are available - ranging from 2 mm to 500 mm (0.08" to 19.7"). The wide variety of applications for the WA includes press-fitting and machine tool, test stand, production and process monitoring. The WA can also be built directly into hydraulic cylinder designs and can handle pressures up to 350 bar (5,000 psi). Additionally, a new amplifier module for HBM's MGC Plus data acquisition system allows you to monitor eight WA transducers simultaneously.

About HBM
HBM, with U.S. headquarters located in Marlborough, Mass., is a leading global supplier of measurement technologies, products and solutions for industrial test and measurement applications. HBM provides complete measurement solutions - from sensor to software - for industrial and laboratory applications. Its wide range of measurement parameters includes force, torque, weight, strain, displacement and pressure, displacement. Primary markets include aerospace, automotive and manufacturing.

HBM is a wholly owned subsidiary of Spectris plc.

For more information, contact:
Media Contact:
Garner Communications
Jon Garner
949-646-0370
jon@garnerads.com

HBM Contact:
HBM, Inc.
Robert N. Davis
888-403-4051
robert.davis@hbm.com

HBM, Inc 19 Bartlett Street Marlborough MA 01752 Tel 888-403-4051 508-624-4500 Fax 508-485-7480 www.hbm.com

More from Computer Hardware & Peripherals