Dispersion Monitor, Small-Volume Cell aid particle size analysis.
Press Release Summary: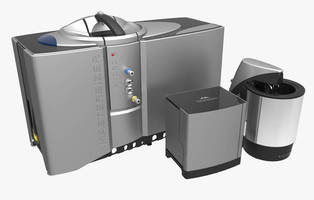 Mastersizer 3000 accessories reduce time of developing and validating methods for pharmaceutical particle size analysis. While lens-less Hydro Sight enables real-time visual monitoring of dispersion, Hydro SV cell allows method development and particle size analysis with few milliliters of sample. Measurements of size and shape distribution, along with dispersion index, provide continuous insight into dispersion behavior and confirm consistency and completeness of dispersion process.
---
Original Press Release:

New Accessories for the Mastersizer 3000 Support Smarter Pharmaceutical Particle Size Analysis



Malvern, UK: New 'third anniversary' accessories for the Mastersizer 3000 from Malvern Instruments reduce the time and cost of developing and validating robust methods for pharmaceutical particle size analysis. Correlations between particle size and bioavailability make particle size analysis a critical activity for the pharmaceutical industry. The innovative lens-less Hydro Sight imaging accessory enables real-time visual monitoring of a dispersion, providing information to swiftly optimize and validate a method. The Hydro SV (small volume) cell allows method development and reliable particle size analysis, with just a few milliliters of sample.



"In combination these accessories considerably ease the burden associated with routine particle sizing within the pharmaceutical industry", said Dr Paul Kippax, Pharmaceutical Portfolio Manager for Malvern Instruments. "Developing, validating and transferring particle sizing methods efficiently and cost-effectively is essential for this sector. Hydro Sight provides unprecedented insight into the effectiveness and consistency of a particle sizing method. The Hydro SV, on the other hand, enables detailed method development when there are only scant, highly valuable amounts of material available. Used together the accessories support a QbD approach from the very earliest stages of drug development."



A key step in laser diffraction particle sizing is to achieve appropriate dispersion. This ensures that the measured particle size is representative of the sample and relevant to the application. Hydro Sight is a cutting-edge accessory that images particles in real-time, as they undergo wet dispersion in the analyzer.  Measurements of size and shape (elongation) distribution in combination with a unique 'dispersion index' provide continuous insight into dispersion behavior and confirm the consistency and completeness of the dispersion process. An advanced anomaly detection function automatically records images of outlying particles, those that are unusual in terms of size and/or shape. The resulting information cuts the cost and time associated with method development, analytical troubleshooting, method validation and the transfer of analytical techniques from R&D through to QC.



For more information on Hydro Sight, register to view Malvern's launch web event at http://www.malvern.com/msevent or visit www.malvern.com



Malvern, Malvern Instruments and Mastersizer 3000 are registered trademarks of Malvern Instruments Ltd



About Malvern Instruments

Malvern provides the materials and biophysical characterization technology and expertise that enables scientists and engineers to understand and control the properties of dispersed systems. These systems range from proteins and polymers in solution, particle and nanoparticle suspensions and emulsions, through to sprays and aerosols, industrial bulk powders and high concentration slurries. Used at all stages of research, development and manufacturing, Malvern's materials characterization instruments provide critical information that helps accelerate research and product development, enhance and maintain product quality and optimize process efficiency.



Our products reflect Malvern's drive to exploit the latest technological innovations and our commitment to maximizing the potential of established techniques. They are used by both industry and academia, in sectors ranging from pharmaceuticals and biopharmaceuticals to bulk chemicals, cement, plastics and polymers, energy and the environment.



Malvern systems are used to measure particle size, particle shape, zeta potential, protein charge, molecular weight, mass, size and conformation, rheological properties and for chemical identification, advancing the understanding of dispersed systems across many different industries and applications.



Headquartered in Malvern, UK, Malvern Instruments has subsidiary organizations in all major European markets, North America, China, Japan and Korea, a joint venture in India, a global distributor network and applications laboratories around the world. www.malvern.com



Facebook: MalvernInstruments

Blog: www.materials-talks.com

Youtube: malverninstruments

Linked-In: malvern-instruments

Twitter: malvern_news

Google +: https://plus.google.com/+malvern



For press information, please contact:

Trish Appleton

Kapler Communications

Phoenix House, Phoenix Park,

Eaton Socon, Cambridgeshire, PE19 8EP, UK

Tel: +44 (0)1480 471059

Fax: +44 (0)1480 471069 

trish.appleton@kapleronline.com



USA contact:

Marisa Fraser, Malvern Instruments Inc.

117 Flanders Road

Westborough, MA 01581-1042  USA

Tel:  +1 508 768 6400

Fax: +1 508 768 6403

marisa.fraser@malvern.com



Please send sales enquiries to:

Alison Vines, Malvern Instruments Ltd

Enigma Business Park

Grovewood Road, Malvern

Worcestershire WR14 1XZ  UK         

Tel: +44 (0) 1684 892456

Fax: +44 (0) 1684 892789

salesinfo@malvern.com

www.malvern.com





If you would rather not receive future communications from Kapler Communications, let us know by clicking here.

Kapler Communications, Phoenix House, Phoenix Park, Eaton Socon, Cambs, PE19 8EP United Kingdom

More from Electrical Equipment & Systems