Dispensing System offers repeatability for all fluid types.
Press Release Summary: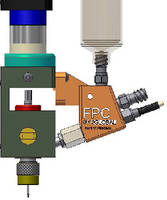 By ensuring consistent supply of fluid to pump regardless of reservoir size or fluid level, FPC Fluid Pressure Control Dispensing System eliminates operator interaction and provides uniform fluid dispensing. System can serve as upgrade to installed GPD MAX and DS Series dispense systems and can be added to new system configurations. For benchtop systems or others looking to optimize dispense results, FPC is available as stand-alone controller and hardware set.
---
Original Press Release:

Automatic Dispense Repeatability for All Fluid Types



GPD Global to Debut FPC at SMTA International



GRAND JUNCTION, CO -- GPD Global, a manufacturer of precision fluid dispensing systems for high-volume 24/7, low-volume/high-mix and R&D production, will debut its patent-pending FPC (Fluid Pressure Control) Dispensing System at SMTA International. FPC offers a breakthrough in uniform fluid dispensing by ensuring a consistent supply of fluid to the pump regardless of reservoir size or fluid level.



Dispense pumps, in general, are very repeatable devices with high accuracy control systems and precision machining.  However, when the consistency of fluid entering the pump varies, the output also varies.  Operators routinely make changes to the fluid pressure or pump parameters to compensate for fluid variations that can come from the syringe fluid level.  FPC eliminates this operator interaction automatically and ensures that the feed pressure into the pump is constant. By maintaining a constant pressure of fluid into the pump that is independent of reservoir pressure, FPC ensures the dispense pump has a sufficient supply of fluid resulting in uniform and repeatable fluid displacement.



FPC is an upgrade to installed GPD MAX and DS Series dispense systems and can be added to new system configurations. For bench-top systems or others looking to improve dispense results, FPC is available as a stand-alone controller and hardware set. It is compatible with all types of dispense pumps, including auger, needle, pinch tube and even jetting pumps. Just set the feed pressure and let FPC maintain a constant input to the dispense pump. 



GPD will showcase FPC for the first time in Booth #215 at the upcoming SMTA International Exhibition, scheduled to take place October 15-16, 2013 at the Fort Worth Convention Center in Texas. Please contact a local GPD Global representative regarding this fresh approach to repeatable fluid dispensing or visit www.gpd-global.com.



About GPD Global

GPD Global is an equipment manufacturer of high-quality, precision, automated fluid dispensing and component-prep systems. The company is an international, state-of-the-art equipment supplier for the PCB assembly and semiconductor industries. It designs and manufactures a variety of automatic fluid dispense systems. GPD Global also manufactures an SMT Cover Tape Peel Tester and Component Prep equipment for Thru-Hole applications. The company is committed to offering premium service to its customers and has sales and customer support affiliates located throughout the world, including North America, South America, Europe, the Middle East and Asia-Pacific. For more information, visit www.gpd-global.com.



Contact

Christian Vega, Sales Manager

970-245-0408

E-mail: request@gpd-global.com

Web site: www.gpd-global.com

 



More from Test & Measurement