Dispensers offer programmable zoom and focus.
Press Release Summary: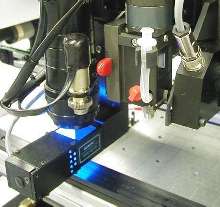 Available on semi-automated and inline semiconductor-packaging dispensers, ClearVU Vision Alignment allows operators to zoom in on miniature fiducials measuring 0.010 in.² or smaller. Multi-level programmable focus allows operator to verify fiducial on substrate level and switch to verify component feature on different level of product or assembly. Feature is compatible with Illuminator Color Control and Illuminator Intensity Control.
---
Original Press Release:

GPD Global ClearVU(TM) Vision Alignment with Programmable Zoom and Focus


Grand Junction, CO - GPD Global announces ClearVU Vision Alignment, a programmable zoom and focus feature on their semi-automated and inline dispensers for high-precision HDI and semiconductor packaging applications. ClearVU simplifies the complex set-up requirements of sub-miniature substrates, varying size components, and multi-level assemblies for a variety of production environments.

ClearVU allows the operator to zoom in on miniature fiducials - 0.010" (0.250 mm) square or smaller, thereby vastly improving alignment accuracy prior to commencement of the dispense program. It also features a unique multi-level programmable focus, allowing the operator to verify a fiducial on the substrate level, and then switch to verify a component feature on a completely different level of the product or assembly.

ClearVU is compatible with two important options - Illuminator Color Control and Illuminator Intensity Control - that allow for lighting adjustments to accommodate varying substrate colors or reflective properties, such as would be the case for FR4, gold, and ceramic substrates. ClearVU also offers an adjustable field of view using zoom adjustment for post-dispense operator inspection. This is particularly useful for off-line analysis of complete parts or assemblies.

ClearVU is available on any GPD Global dispensing system, including the DS-Series and MicroMax Series.

About GPD Global: GPD Global manufactures state-of-the-art equipment for the PCB assembly and semiconductor packaging industries. Products include a wide variety of automatic dispense systems, aqueous inline cleaners for BGA ball attach, solder dip tinning systems, and component prep equipment for both thru-hole and SMT applications. GPD Global is committed to offering premium service to its customers and has sales and customer service affiliates located throughout the world, including the Americas, Europe, the Middle East, and Asia-Pacific.

GPD Global headquarters is located at 2322 I-70 Frontage Road, Grand Junction, Colorado 81505, USA.
Tel: (970) 245-0408; Fax: (970) 245-9674; E-mail: info@gpd-global.com; web: www.gpd-global.com.

Related