Dispenser/Inserter installs anywhere on production line.
Press Release Summary: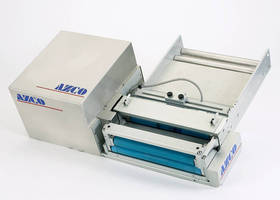 Acu-Sert(TM) CI-250 rotary Cut-to-Length, self-contained machine automatically feeds up to 9 in. wide material on roll. Photo optic eye system detects registration mark, then machine cuts material at up to 300 inserts/min and take away rollers feed it into package. Mounting on base plate, unit includes roll mounted on separate unwind stand and feed rollers adjustable from horizontal to 45° angle downward. It dispenses/inserts coupons, instructions, and absorbent pads.
---
Original Press Release:

AZCO Acu-Sert(TM) CI-250 Rotary Cut-to-Length



Fairfield NJ USA

AZCO Corp is proud to announce the release of their Acu-Sert(TM) CI-250. AZCO Corp is a manufacturer of high quality inserting and dispensing products used to reduce material and labor cost when inserting or dispensing absorbent pads, instruction sheets or coupons into packages. The Acu-Sert(TM) CI-250 is a rotary Cut-to-Length self contained unit that can be easily positioned into any spot on your production line. Its flexible design automatically feeds (up to 250 mm/9 inches wide) material on a roll. The material to be inserted could be with or without a preprinted roll of material. A photo optic eye system detects the registration mark, and accurately cuts the material. Take away rollers feed the cut material into the package.

AZCO's Acu-Sert(TM) CI-250 is simple-to-use with its color touch screen operator control panel. The operator enters in the length or cut offset and the unit will dispense a piece on demand based on an eye trigger signal. Every time the trigger eye senses a package passing by the unit it will dispense one item. Speeds are up to 300 inserts a minute; this unit is an ideal solution for inserting coupons, instructions and absorbent pads. The unit, mounts on a base plate, a roll of material is mounted on a separate unwind stand and the out feed rollers can be adjusted from horizontal to 45° angle downward to insert the product effectively.

AZCO Corp has specialized in the feeding and cutting of flexible materials for over 20 years, focusing on giving customers the benefit of targeted expertise, skills, and resources, along with proven components for each type of operation. The company is known for selling their popular standard units as well as modifying their products to provide custom solution. AZCO equipment provides the reliability and simple-to-use products necessary for the productive cost effective converting for the packaging industry. All AZCO equipment is designed for seamless integration. AZCO Corp provides solutions for the most complex cutting application along with a broad range of components including slitter/sheeters, cut-to-length units, web cutting machinery, knife assemblies; unwind/rewind stands, hole-punching machinery and equipment stands. AZCO Corp is your complete source for your feeding, cutting, dispensing, and inserting needs.

More from Fluid & Gas Flow Equipment