Disk Puck Vehicle Antennas improve asset tracking reliability.
Press Release Summary: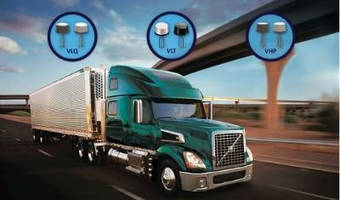 With stable coverage pattern that minimizes holes in coverage, 3-port VLT69273, 4-port VLQ69273, and 5-port VHP69273 provide connectivity required to accurately monitor real-time data, including position, speed, destination, engine temperature, and cargo information (temperature, orientation). These IP67-rated, multiport and multiband antennas deliver coverage across 3G/ 4G LTE, Wi-Fi®, and GPS bands (in various port configurations/combinations) while above ground.
---
Original Press Release:

New Vehicle Antennas Enable Increased Productivity and Profitability



Laird's New Disk Puck Antennas Enable Increased Driver Productivity and Wireless Asset Tracking Through 360 Degrees of Reliable Connectivity



SCHAUMBURG, Ill. – Today at the 2016 International Wireless Communication Expo (IWCE) in Las Vegas, Nevada, global technology leader Laird (LRD: London) introduces three new lines of disk puck vehicular antennas which improve asset tracking reliability and driver productivity.



In today's competitive business landscape, data is crucial to gaining the most competitive and profitable position for a company. Laird's new disk puck antenna family provides the connectivity required to accurately monitor real-time data like position, speed, destination, engine temperature, and even cargo information like temperature and orientation.



Most vehicular antennas do not offer a stable coverage pattern. This means as a vehicle moves down the road, the antenna connectivity becomes less reliable, causing a loss of business critical data.



"Getting a signal with a vehicular antenna that has an unstable coverage pattern is a bit like trying to catch a pea with a tennis racquet; sometimes the pea will go right between the strings," explains Laird Senior Vice President of Infrastructure Antennas, Jack Cowper. "Leveraging decades of antenna design experience, our engineers have constructed Laird's new disk puck antennas with an industry leading, stable, coverage pattern which acts more like a baseball glove. That means there are substantially fewer holes in the coverage, creating more reliable connectivity for drivers, asset tracking managers and their customers."



This propriety antenna design enables fleet managers to offer their customers real-time monitoring of cargo, allowing the owners of cargo to track vital information, like product temperature, and make important decisions from afar rather than leaving those choices up to a contracted driver.



Laird's new VLT/ VLQ/ VHP Multiport - Multiband Disk Puck Antennas deliver coverage across 3G/ 4G LTE, Wi-Fi and GPS bands so as long as the vehicle is above ground the antenna will stay connected. The compact and rugged housing ensures these antennas will work in any weather conditions that the vehicle can handle.



"For over-the-road haulers these antennas offer increased productivity and more reliable data," explains Cowper. "For public transportation fleets they offer better connectivity for customers, improving the passenger experience and offering a point of competitive differentiation."



These antennas also come with Laird's new 5 year product warranty program also launched this week. Learn more about Laird's new warranty program by clicking here.



Antenna Features

The 3-port VLT69273 disk puck antenna offers two configurations. 2-port 3G/4G LTE and 1-port GPS or 1-port 3G/4G LTE, 1-port Wi-Fi and 1-port GPS to meet unique wireless network access needs all in a compact, IP67 ingress rated housing delivering superior performance within the engineered coverage area. Learn more here.



The 4-port VLQ69273 disk puck antenna offers three configurations. 2-ports 3G/4G LTE, 1-port Wi-Fi and 1-port GPS, 2-port 3G/4G LTE, 1-port Wi-Fi and 1-port GPS or 4-ports Wi-Fi to meet unique wireless network access needs all in a compact, IP67 ingress rated housing which delivering superior performance within the engineered coverage area. Learn more here.



The 5-port VHP69273 disk puck antenna offers a 2-port 3G/4G LTE, 2-port Wi-Fi  and 1-port GPS  configuration to meet unique wireless network access needs all in a compact, IP67 ingress rated housing which delivering superior performance within the engineered coverage area. Learn more here.



About Laird

Laird is a global technology company focused on providing systems, components and solutions that protect electronics from electromagnetic interference and heat, and that enable connectivity in mission critical systems through wireless applications and antenna systems.



Products are supplied to all sectors of the electronics industry including Connected Transport, Connected Industry, Connected Medical, Telecom/ Computing, and Mobile Device markets.



Laird, a unit of Laird PLC, employs over 9,000 employees in more than 50 facilities located in 19 countries.



For the latest news or more information, visit:

Lairdtech.com 

twitter.com/lairdtech 

facebook.com/lairdtech 

linkedin.com/company/laird-technologies



Trademarks

© 2016 All rights reserved.  Laird, Laird Technologies and the respective logos are trademarks owned by Laird PLC and/or Laird Technologies Inc. either directly or indirectly through one or more subsidiaries. Other products, logos, and company names mentioned herein, may be trademarks of their respective owners.



CONTACT:

Alex Reed

Communications Manager

Office: +1-636-898-6079

Email: alex.reed@lairdtech.com



Web Site: http://www.lairdtech.com

More from Fluid & Gas Flow Equipment