Discussion System suits small to medium sized meeting areas.
Press Release Summary: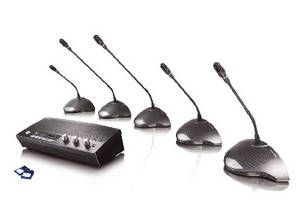 Suitable for town halls, local business centers, and courtrooms, CCS 900 Ultro Discussion System includes Digital Acoustic Feedback Suppressor technology to assure speech intelligibility and Possible-to-Speak function, which gives visual indication when microphone is available. Control Unit can record and play back up to 64 hr of discussion using 2 GB SD card. Expanding to up to 150 units, system enables 1-4 microphones to be active simultaneously, with chairman always having speaker priority.
---
Original Press Release:

Bosch Introduces New Discussion System for Small to Medium Sized Meeting Areas Innovative and Elegant Design with Superior Acoustical Performance

Superior sound quality optimized for speech


Proprietary "Possible-To-Speak" function provides a visual indication when the microphone is available

Bosch Security Systems is introducing a discussion system combining new elegant styling that complements any interior with innovative features designed and developed by Bosch experts in Europe.

The CCS 900 Ultro Discussion System is intended primarily for small to medium sized meeting areas such as town halls, local business centers and courtrooms. It offers a host of design features that make it easy to manage meetings, including an advanced new patent-pending "Possible-To-Speak" function which gives a visual indication of when the microphone is available for a delegate to take the floor.

The system's superior speech intelligibility is assured by Bosch's proprietary DAFS (Digital Acoustic Feedback Suppressor) technology, which has been proven over many years in the company's conferencing and public address systems.

With this new all-in-one system, users can listen to proceedings and easily participate directly in discussions. The Control Unit can record and play back up to 64 hours of discussion using a 2 GB SD card. It also features a 60 second buffer enabling the SD card to be changed when full to allow recording to continue without losing any data.

The delegate and chairman units include a built-in loudspeaker, a microphone that's activated with a single touch and two headphone sockets with volume control. The chairman units also include a priority button, which temporarily or permanently mutes all active delegate microphones and sounds an "attention" tone.

Four easy-to-use operating modes give the CCS 900 Ultro added versatility for more focus on the conversation. During meetings, one to four microphones can be active simultaneously, with the chairman always having speaker priority. Unused microphones are switched off automatically if delegates forget to switch off their units. Moreover, to support external participants (during town-council meetings, for example), extra microphones in any style (wired, wireless, handheld or podium) can be connected to the system.

Since it's a plug-and-play, all-in-one discussion solution, the CCS 900 Ultro requires no special training or operator. Anyone can begin using the intuitive controls immediately.

The system is also designed for expansion up to 150 units, with the possibility of adding a wide range of other equipment and auxiliary components, including an interpretation system, language distribution, a public address system and an interface for tele/video conferencing.

Contact person for press inquiries:

Bosch Security Systems

Erika Görge

P.O. Box 12 70

D-85504 Ottobrunn

Germany

Phone: +49 89 6290-1647

Fax: +49 89 6290-281647

E-mail: erika.goerge@de.bosch.com

www.boschsecurity.com

The Bosch Group is a leading global supplier of technology and services. According to preliminary figures, some 270,000 associates generated sales of roughly 38 billion euros in the areas of automotive and industrial technology, consumer goods, and building technology in fiscal 2009. The Bosch Group comprises Robert Bosch GmbH and its more than 300 subsidiaries and regional companies in over 60 countries. If its sales and service partners are included, then Bosch is represented in roughly 150 countries. This worldwide development, manufacturing, and sales network is the foundation for further growth. Each year, Bosch spends more than 3.5 billion euros for research and development, and applies for over 3,000 patents worldwide. With all its products and services, Bosch enhances the quality of life by providing solutions which are both innovative and beneficial.

The company was set up in Stuttgart in 1886 by Robert Bosch (1861-1942) as "Workshop for Precision Mechanics and Electrical Engineering." The special ownership structure of Robert Bosch GmbH guarantees the entrepreneurial freedom of the Bosch Group, making it possible for the company to plan over the long term and to undertake significant up-front investments in the safeguarding of its future. Ninety-two percent of the share capital of Robert Bosch GmbH is held by Robert Bosch Stiftung GmbH, a charitable foundation. The majority of voting rights are held by Robert Bosch Industrietreuhand KG, an industrial trust. The entrepreneurial ownership functions are carried out by the trust. The remaining shares are held by the Bosch family and by Robert Bosch GmbH.

Additional information can be accessed at www.bosch.com.

More from Electronic Components & Devices