Discs provide cool cutting action.
Press Release Summary: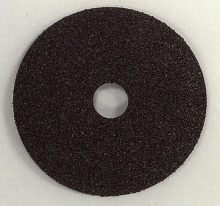 Cyclone Resin Fibre Discs are coated with abrasive grains and bonded with heat-resistant finish. Premium Aluminum Oxide Disc is suited for light, general purpose grinding of various metals. Aluminum Oxide Open-Cut Resin Disc grinds aluminum, non-ferrous metals, and malleable materials. Island Pattern grain configurations eliminate loading. Premium Alumina Zirconia suits stainless steel grinding. Ceramic Grain Disc grinds and finishes all types of carbon steel.
---
Original Press Release:
Versatility for Results

Anderson Products' Cyclone Resin Fibre Discs are coated with abrasive grains and bonded with a tough, heat-resistant resin. This results in a fast, yet cool cutting action.

Each specific disc type has features and benefits unique to the particular application for which it was designed. The Premium Aluminum Oxide Disc is best suited for light, general purpose grinding of various metals. Composed of a tough, durable grain, it offers versatility and multi-purpose performance at a low cost. The Aluminum Oxide Open-Cut Resin Disc is "the disc for grinding aluminum" as well as other non-ferrous metals and soft, malleable materials. The "Island Pattern" grain configurations
virtually eliminate "loading", providing a consistent, cutting action. The Premium Alumina Zirconia offers excellent performance on stainless steel because its cool grinding action
reduces glazing and loading. Finally, the Ceramic Grain Disc offers superior grinding and finishing on all types of carbon steel. The self-sharpening grain ensures consistent performance during the life of the disc.

Anderson Products also offers an extensive line of abrasive products, industrial brushes and maintenance products.
For additional information, contact your nearest Anderson distributor, or contact: Anderson Products, 1040 Southbridge Street, Worcester, MA 01610; Toll free (800) 755-6101; FAX: (800) 729-4694; www.andersonproducts.com.

CONTACT: Eric Aho

PHONE: (800) 755-6101, ext. 3017
More from Sensors, Monitors & Transducers