Disc-Type Tool Turrets mount in any position.
Press Release Summary: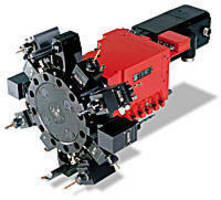 Designed for CNC lathes and turning centers, SAUTER Tool Exchanger Turrets are available in 6 frame sizes, each with non-lifting tool carrier having 8, 12, or 16 tool capacity. Bi-directional operating units are prepared for either axially mounted static tooling or combination of both static and live tooling. Featuring low kinetic design, turrets are extremely crash resistant. Optional central lubrication and air purge connections help keep turrets operating 24/7 with minimal maintenance.
---
Original Press Release:
SAUTER - Disc-Type Tool Turrets
The SAUTER range of self contained Tool Exchanger Turrets, designed for CNC Lathes & Turning Centers, are simple to install and operate, rugged, reliable and low maintenance, making them an ideal choice for today's turning center / machine tool designers, builders and retrofitters.

This extremely fast bi-directional operating series of tool turrets are available in six frame sizes each with a non-lifting tool carrier having 8, 12 or 16 tool capacity. They are prepared for either axially mounted "static" tooling or a combination of both "static" and "live" tooling as used on a more conventional CNC lathe, alternatively radially oriented tooling is available for use most frequently on sub-spindle machines engaged in secondary operations and on other special purpose turning / milling centers.

The turrets can be mounted in any position making them ideal for installation on flexible multi-task turning centers, center drive lathes, inverted vertical turning machines and the more conventional slant bed lathes.

MTBF values are very impressive with the low kinetic design making them extremely crash resilient and with the use of the optional central lubrication and air purge connections; helps keep the turrets operating 24/7 with minimal maintenance.

In addition to the "basic" turrets and tooling, standard options such as an integral high pressure coolant supply, load and tool condition monitoring, external cooling "jackets" for thermal stability on ultra high precision turning applications are offered, plus they are available with a SAUTER "Y" axis slide and/or a "B" axis swiveling base for added machining capabilities.

SAUTER turrets have been successfully operating in a wide variety of industries around the world and on all types of medium and high volume production turning equipment many of which in extremely arduous environments.

The SAUTER turrets have proven themselves many times over as being ideally suited were accuracy, dependability and reliability are an absolute must.
More from Thermal & Heating Equipment