Disc Couplings target critical drivetrain applications.
Press Release Summary: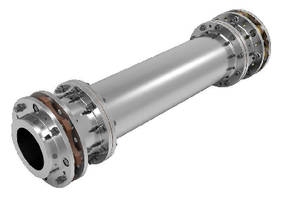 Aligned to torque requirements of turbomachinery, Kop-Flex High Performance Disc Coupling 2.0 Series matches established English and Metric shaft sizes and is available in 2 reduced-moment styles: standard RZS and full-featured RMS, with interlocking flanges for additional safety in event of torque overload. Both feature minimum nominal bore capacity of 1.6–8.5 in., with max torque ratings of 12,000–1,880,000 lb-in. Max speeds range from 7,900 rpm for largest coupling to 34,300 rpm for smallest.
---
Original Press Release:

New Disc Couplings Designed to be the Lightest Available for Critical Drivetrains



High Performance Disc Coupling 2.0 for engineered drivetrains builds on Kop-Flex's foundation of reliability, safety and exceptional performance



Florence, Ky., – Kop-Flex's new High Performance Disc Coupling 2.0 redefines "high performance" with a lighter-weight, second-generation design aligned to the torque requirements of turbomachinery equipment. Introduced and exhibited at the Turbomachinery show in booth 2111, the new disc couplings are 15-30% lighter than previous generations and competitive designs. Engineering optimization of the disc pack, hardware and major components achieves significant reductions in weight and stress concentrations in the assembly, while conforming to API 671 4th Ed. requirements. In addition, the expanded range of 22 sizes is ideally matched for established English and metric shaft sizes to allow selection of the smallest, lightest coupling needed for an application's torque requirement and service factor. Two reduced-moment styles are available: the standard RZS and the full featured RMS, which includes interlocking flanges for additional safety in the event of torque overload. The minimum nominal bore capacity for both RMS and RZS models is 1.6" (~40mm) to 8.5" (~ 210 mm), with maximum continuous torque ratings of 12,000 lb-in to 1,880,000 lb-in (1.36 - 212 kNm) for both designs. Maximum speeds for both models range from 7,900 rpm for the largest coupling to 34,300 rpm for the smallest.



"The Kop-Flex High Performance Disc Coupling 2.0 is an evolutionary design developed using refined classical stress calculations and advanced finite element analysis," explained Julian Del Campo, Regal Senior Product Specialist. "The FEA model used 26 million degrees of freedom and required more than 500 days of problem solving during the process. Starting with individual components, the structural complexity of the model was increased incrementally until a full coupling model was created and validated. The new disc-pack geometry improves the stress distribution and reduces reaction loads on the equipment. The lighter coupling and increased range of sizes allow us to match common customer shaft sizes and decrease the use of high-cost titanium parts. The HPD2.0 design allows selection of the lightest, smallest-diameter coupling that meets torque and API requirements, providing the best fit for a wide range of applications."



Kop-Flex high performance disc couplings have provided over 100 million hours of reliable operation. Hubs, sleeves and spacers are heat-treated 4340 steel, while the flexible elements are a series of corrosion-resistant, high-strength, stainless steel discs coated with Koplon. Optional coupling features include; Powerlign® Torquemeters, lateral and torsional tuning, electrical insulation and shear spacer sections.



Kop-Flex also provides complete lifecycle engineering services for customer fleets, as well as repair, rebuilding and recertification of its products. For further information visit www.regalpts.com.



About Regal-Beloit

Regal Beloit Corporation (NYSE: RBC) is a leading manufacturer of electric motors, electrical motion controls, power generation and power transmission products serving markets throughout the world. The company is comprised of three business segments: Commercial and Industrial Systems, Climate Solutions and Power Transmission Solutions. Regal is headquartered in Beloit, Wisconsin, and has manufacturing, sales and service facilities throughout the United States, Canada, Latin America, Europe and Asia. For more information, visit RegalBeloit.com

More from Test & Measurement