Disc Couplings overcome failures due to fretting.
Press Release Summary: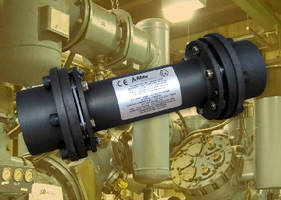 Suited for process pumps, compressors, and motors, Torsiflex Disc Couplings are rated for operation at loads from 0.26-85 kNm and speeds from 8,000-3,600 rpm. Backlash-free units incorporate anti-flail feature and will accept significant levels of angular, radial, and axial misalignment without loss of operating performance. Compliant with API 610 and ATEX, maintenance-free couplings have no moving parts and do not require lubrication.
---
Original Press Release:

Torsiflex Couplings Provide Higher Torque, Overcome Failures Due to Fretting



Bibby Transmissions, an Altra Industrial Motion brand, has integrated the high torque, high reliability and zero maintenance characteristics of its top-end Turboflex couplings into a new range of Torsiflex disc couplings for more general applications, on process pumps, compressors and motors.

The Torsiflex range is highly reliable, offering typical operating life of 20-30 years; it is zero maintenance and is fully compliant with API 610 and ATEX. In addition, because the Torsiflex couplings employ the same design as the larger Turboflex range, they can transmit substantially higher torque, size-for-size than competitors' couplings. This feature offers the potential benefit of downsizing - and consequent cost saving on some bore sizes.

The Torsiflex design offers the same well-proven performance and reliability as Bibby's Turboflex disc couplings, which are used in the most demanding high-end applications on power station drives, gas turbines, oil platforms and vertical pumps. The Bibby design effectively drives in friction, rather than shear, to the disc coupling. This is achieved by using large aircraft-quality bolts on the disk hubs - bolts that are larger than those used by competitors.

As a result of this design, the pack of blades in the coupling can be clamped harder together to prevent fretting. In contrast, the use of smaller bolts does not allow the same torque to be achieved across the blades, so fretting is more likely to occur, and with it the possibility of premature failure of the coupling.

Rated for operation at loads from 0.26kNm to 85kNm, and speeds from 8,000 rpm to 3,600 rpm (smallest to largest), the Torsiflex range offers the benefit of a plug-in design that allows easy installation; the couplings can be installed and the flexible elements (disc packs) changed without disturbing adjacent machinery.

Torsionally stiff and backlash free, the Torsiflex also incorporates an anti-flail feature. Moreover, it will accept significant levels of angular, radial and axial misalignment without any loss of operating performance.

In addition to offering high levels of performance and reliability, the Bibby Torsiflex couplings are essentially fit-and-forget units. They have no moving parts and require no maintenance. Neither do they need lubrication, however, the presence of oil in the environment will not effect the operation of the coupling.

The Torsiflex range is also equally at home in other environments where hostile working conditions are encountered. In these environments the couplings can be adapted using a variety of special materials and surface coatings. Similarly, for applications where the environment is hazardous, spark-free ATEX rated versions of the couplings are available.

For applications with load ratings in excess of the capacity of the Torsiflex range, Bibby Transmissions offers its market-leading Turboflex couplings. These couplings are used in some of the most challenging applications, worldwide: in oil and gas, water treatment, power generation, marine and pumping applications.

Bibby Transmissions: An Altra Industrial Motion Company

Bibby Transmissions, a brand of Altra Industrial Motion Inc., has beenb a world leader in the design and manufacture of couplings for use in 9industrial markets for many years. Headquartered in Dewsbury, England, Bibby Transmissions markets its products globally through the Altra sales and distributor network in industries including steel-making, mining, power generation, chemical processing and water treatment.

About Altra Industrial Motion

Altra Industrial Motion (NASDAQ:AMIC) is a leading multinational designer, producer and marketer of a wide range of electromechanical power transmission products. The company brings together strong brands covering over 40 product lines with production facilities in nine countries. Altra's leading brands include Boston Gear, Warner Electric, TB Wood's, Formsprag Clutch, Wichita Clutch, Industrial Clutch, Ameridrives Couplings, Kilian Manufacturing, Marland Clutch, Nuttall Gear, Stieber Clutch, Twiflex Limited, Bibby Transmissions, Matrix International, Inertia Dynamics, Huco-Dynatork, Delroyd Worm Gear, Saftek Friction and Warner Linear. For information on any of these technology leaders, visit www.AltraMotion.com.

Or contact David Brooksbank, Director of Marketing,
Altra Industrial Motion, 449 Gardner St., South Beloit, IL 61080. Tel 815-389-6227.
Email david.brooksbank@altramotion.com. www.AltraMotion.com

More from Laboratory and Research Supplies and Equipment