Disc Brake Rotors ensure silent brake operation.
Press Release Summary: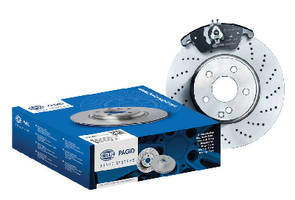 Designed to deliver motorsports performance in wide range of everyday road vehicles, HELLA Pagid High Carbon Rotors deliver maximum density for silent brake operation. Rotors are coated to ensure corrosion protection and provide optimized heat transfer for cooler running brake system. Friction consistency minimizes risk of stress cracks and permanent deformation. Using tightest run out specifications possible, rotors minimize pad knock back and judder.
---
Original Press Release:

New HELLA Pagid High Carbon Disc Brake Rotor Program Leads the Market with Exceptional Performance, Reliability and Coverage



– Motorsports performance and reliability for everyday road vehicles –



Peachtree City, GA – HELLA Pagid Brake Systems, one of the leading brake systems suppliers offering quality replacement parts to the aftermarket, has just launched the new line of HELLA Pagid High Carbon Disc Brake Rotors. These new advanced rotors are designed to deliver motorsports performance and reliability in a wide range of everyday road vehicles. Using OE specifications, HELLA Pagid is able to provide exact fit and finish, while providing better material content to give customers more confidence in the stopping power of their vehicles.



Most complete range on market

The new program represents the most complete range of high carbon rotors available in the market. HELLA Pagid now offers 282 part numbers and covers 8,708 applications for a total of 15,600,000 vehicles now on the road in the USA. Other brake rotor manufacturers offer between 120 and 180 part numbers in their range. Hella Pagid plans to increase the range with more extensions every six months.



Reduced brake noise and fade

Because density plays a major part in noise absorption, the HELLA Pagid High Carbon Rotors deliver the maximum density per rotor possible for silent brake operation. The rotors also provide better heat transfer for a cooler running brake system, which is fundamental in reducing brake fade.



Increased friction consistency

Brake rotors undergo a large deal of stress during braking and can distort, causing judder or vibrations. HELLA Pagid relies on rigorous microstructure inspections and specialized foundry processes to produce a rotor that controls the stress more efficiently to maintain a high level of friction consistency. These same processes reduce the risk of stress cracks and permanent deformation (warping).



Corrosion protected, ready to install

HELLA Pagid High Carbon Rotors are coated to ensure corrosion protection. Corrosion causes cooling issues and wheel fitment issues that can lead to service comebacks. The rotors come ready to install right out of the box, eliminating the need for brake clean to degrease the rotors and any additional prep time for installation.



Increased brake comfort and confidence

HELLA Pagid High Carbon Rotors use the tightest run out specifications possible to reduce "pad knock back" and "judder". This gives customers better braking performance overall and a more confident pedal feel. Pad knock back is caused by excessive run out, which pushes the caliper pistons back. This increases the air gap between the pad and rotor surfaces and creates a soft pedal, which ultimately makes the customer lose confidence in the brake job.



HELLA Pagid High Carbon Rotors are sold individually and packaged in a protective plastic bag as one unit per box. Includes mounting instructions and mounting hardware, if required.



More information is available from the HELLA Pagid BrakeGuide, which can be viewed as an online catalog at: www.brakeguide.com and downloaded as an app on both iOS and Android mobile devices.



About HELLA Pagid Brake Systems

HELLA Pagid Brake Systems is a joint venture between HELLA and TMD Friction, a leading manufacturer of brake friction materials for the automotive and brake industries. HELLA Pagid Brake Systems combines the global market leader in brake linings of TMD Friction, with the commercial and global aftermarket specialist, HELLA. The joint venture began trading publicly in May of 2013, with each partner taking a 50 percent stake in the business. For more information is available at: http://www.hella-pagid.com.



About HELLA, Inc.

HELLA, Inc., located in suburban Atlanta, GA, is the North American aftermarket sales and distribution headquarters for HELLA KGaA Hueck & Co.  HELLA, Inc. provides world-class aftermarket and special OE support to automotive, marine, and heavy-duty accounts in the U.S., Canada, and the Caribbean. For more information, visit: www.hellausa.com.



HELLA KGaA Hueck & Co., Lippstadt: HELLA is a global, family-owned company, listed on the stock exchange, with more than 30,000 employees at 100 locations in more than 35 countries. The HELLA Group develops and manufactures lighting technology and electronic components and systems for the automotive industry and also has one of the largest retail organizations for automotive parts, accessories, diagnostics, and services within Europe. Complete vehicle modules, air-conditioning systems, and vehicle electrical systems are also produced in joint venture companies. With more than 6,000 people working in research and development, HELLA is one of the most important innovation drivers on the market. In addition, with preliminary sales of approx. 5.8 billion euros in fiscal year 2014/2015, the HELLA Group is one of the top 40 automotive parts suppliers in the world and one of the 100 largest German industrial companies.



For more information, visit offering www.hella.com



For more information, contact:

Martin Ngwenya

HELLA, Inc

martin.ngwenya@hella.com

(877) 22-HELLA

More from Material Handling & Storage