Disc Brake Rotors are manufactured to meet OE tolerances.
Press Release Summary: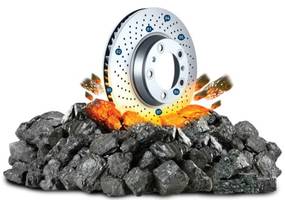 Designed with aluminum hat and high carbon friction ring bonded by rivets, Disc Brake Rotors are designed to match with HELLA Pagid Brake System brake pads. Featuring two-piece construction, unit's aluminum body saves weight by 15-20 percent and reduces unsprung mass of brake system.
---
Original Press Release:
HELLA Pagid OE Composite Disc Brake Rotors Reduce Weight, Improve Driving Properties
Two-piece design now available for aftermarket applications
HELLA Pagid Brake Systems, one of the leading quality brake systems suppliers, now offers their innovative composite disc brake rotors for European applications. These advanced, two-piece brake discs feature an aluminum hat and a high carbon friction ring, which are bonded together by rivets. The use of aluminum delivers a weight savings of 15-20 percent and reduces the unsprung mass of the brake system. The resulting assembly not only improves driving properties, but also helps contribute to a reduction in fuel consumption.
HELLA Pagid composite brake rotors are designed to match perfectly with HELLA Pagid Brake System brake pads and deliver maximum performance in terms of safety, comfort and service life. Every HELLA Pagid composite brake rotor is manufactured in accordance with strict OE tolerances.
More information about HELLA Pagid Brake System pads, rotors, wear sensors, and "where to buy" can be found at www.highcarbonrotors.com. HELLA Pagid Brake System parts application data is available from the HELLA Pagid BrakeGuide at: www.brakeguide.com. The BrakeGuide can be viewed as an online catalog and conveniently downloaded as an app on both iOS and Android mobile devices.
About HELLA Pagid Brake Systems
HELLA Pagid Brake Systems is a joint venture between HELLA and TMD Friction, a leading manufacturer of brake friction materials for the automotive and brake industries. HELLA Pagid Brake Systems combines the global market leader in brake linings of TMD Friction, with the commercial and global aftermarket specialist, HELLA. The joint venture began trading publicly in May of 2013, with each partner taking a 50 percent stake in the business. For more information, visit: http://www.hella-pagid.com.
About HELLA, Inc.
HELLA, Inc., located in suburban Atlanta, GA, is the North American aftermarket sales and distribution headquarters for HELLA KGaA Hueck & Co. HELLA, Inc. provides world-class aftermarket and special OE support to automotive, marine, and heavy-duty accounts in the U.S., Canada, and the Caribbean. For more information, visit: www.hellausa.com.
HELLA KGaA Hueck & Co., Lippstadt: HELLA is a global, family-owned company, listed on the stock exchange, with approx. 34,000 employees at over 125 locations in more than 35 countries. The HELLA Group develops and manufactures lighting technology and electronic components and systems for the automotive industry and has one of the largest retail organizations for automotive parts, accessories, diagnostics, and services within Europe. Complete vehicle modules, air-conditioning systems, and vehicle electrical systems are also produced in joint venture companies. With more than 6,000 people working in research and development, HELLA is one of the most important innovation drivers on the market. In addition, with sales of EUR 6.4 billion in fiscal year 2015/2016, the HELLA Group is one of the top 40 automotive suppliers in the world and one of the 100 largest German industrial companies. For more information, visit: www.hella.com
For more information, contact:
Martin Ngwenya
HELLA, Inc

(877) 22-HELLA
More from Fasteners & Hardware