Directional Control Valve incorporates on-board electronics.
Press Release Summary: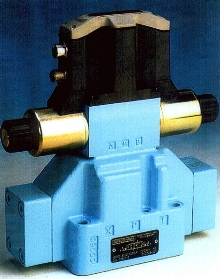 Model 4DP03-3B is rated at 100, 200, or 300 l/min flow rates with 5 bar-per-spool-edge pressure drop, or 500 l/min in double path configuration. It conforms to ISO 4401-07-06-0, CETOP 7, and NFPA 7 standards. Standard M12 connector socket with O-ring seal is supplied for interface connection, providing ramps adjustable up to 10 sec, and 10 V reference voltage for external potentiometer. Optional second connector is available to accept ramp on/off and emergency stop inputs.
---
Original Press Release:
Denison Hydraulics Introduces New 03-Size Proportional Directional Control Valve with Integrated On-Board Electronics

Marysville, Ohio, January 14 - Denison Hydraulics, a Parker Hannifin company, has introduced the 4DP03-3B, a new proportional directional control valve with on-board electronics.

Rated at flow rates of 100, 200, or 300 l/min with a 5 bar-per-spool-edge pressure drop, or 500 l/min in a double path configuration, the new valves are intended for applications requiring highly repeatable and reproducible control of cylinder velocities or motor speeds. They conform to ISO 4401-07-06-0, CETOP 7, and NFPA 7 standards.

The on-board electronics permit these valves to be shipped with the amplifier and valve accurately matched using an optimized routine during factory testing. Matching is a requirement of all electronically-controlled valves, and is necessary to compensate for machining tolerances within the valve.

In the past, matching was routinely performed in the field during commissioning of the hydraulic system, and each time a valve was replaced. This costly and time-consuming procedure is no longer necessary because out-of-the-box the new Denison valves are repeatable to [ 3-percent of flow at 100-percent command. Factory settings include zero position, Imin and Imax.

A standard M12 connector socket with O-ring seal is supplied for the interface connection providing ramps adjustable up to 10 seconds and a 10 volt reference voltage for an external potentiometer. An optional second connector is available to accept ramp on/off and emergency stop (fail-safe) inputs. Three diagnostic LED's are also included in the standard enclosure, which is waterproof and requires no solenoid wiring connections.

Denison Hydraulics is a leading global manufacturer of hydraulic components and systems for off-highway and construction vehicles; for mining equipment; for environmental and waste recovery equipment; for pulp and paper, chemical and other processing equipment; and for such in-plant machines as machine tools, plastic molding machines, die casters, and stamping presses.

Contact:

Doug Drummond, NES

Rick Rockwell, Denison Hydraulics

Denison Hydraulics

14249 Industrial Parkway

Marysville,

Ohio 43040

1.800.551.5956
More from Mechanical Power Transmission