Directional Control Valve comes complete with electronics.
Press Release Summary: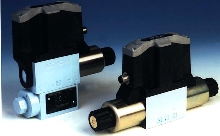 Model 4DP01 proportional valve has factory-set, top-mounted amplifier electronics, allowing repeatability from valve to valve, and minimizing setting procedure in field. Non-conductive electronics box is suitable for food processing applications, where frequent wash downs are required. Other applications include plastic injection molding machines, extrusion presses, die-casting machines, conveyor systems, assembly lines, and sawmills.
---
Original Press Release:
Denison Hydraulics Introduces New Member of its Family of High Performance Proportional Directional Control Valves

Marysville, Ohio, Aug. 7 - Denison Hydraulics has introduced its new 4DP01 proportional directional valve with compact, top-mounted onboard electronics.

Typical applications for the new electronically-controlled valve, which conforms to CETOP 03 mounting, include those where downtime is crucial, including plastic injection molding machines, extrusion presses, die casting machines, conveyor systems, assembly lines, marine systems, sawmills and a broad range of off-road vehicles.

Because the onboard electronics box is non-conductive, the 4DP01 is also ideal for food processing applications, where frequent wash downs are required.

Mounted on top of the valve, the integrated electronics offer complete interchangeability of systems, using separate valve and electronic driver without complicated set-up procedures. Adjustable ramps and emergency stop function allow the user to customize the application as needed.

Key to the new unit's capability is the fact that the valve and its proportional amplifier electronics are tested together and are factory-set. This allows an optimum repeatability from valve to valve and minimizes the setting procedure in the field, often under difficult conditions. This is a big advantage for the first installation as well as for replacements, where long machine stops can be prevented.

Two 3-color LEDs constantly monitor the operational mode.

Denison Hydraulics is a leading global manufacturer of hydraulic components and systems for off-highway and construction vehicles; for mining equipment; for environmental and waste recovery equipment; for pulp and paper, chemical and other processing equipment; and for such in-plant machines as machine tools, plastic molding machines, die casters, and stamping presses.

Contact: Doug Drummond, NES

Rick Rockwell, Denison Hydraulics


More from Cleaning Products & Equipment