Direct Insertion Meter monitors density and concentration.
Press Release Summary: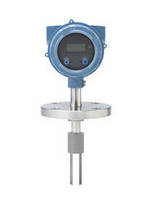 Featuring tuning fork design, Fork Density Meter incorporates hazardous area head-mounted transmitter that can digitally connect to distributed control systems and output raw sensor signals to signal converters and flow computers. System supports 4-20mA, HART, and WirelessHART, as well as Sensor Time Period, Foundation fieldbus, and RS485 Modbus communications. Known Density Verification feature checks meter for measurement alarm conditions, sensor integrity, and presence of coating/corrosion.
---
Original Press Release:

Emerson Introduces Direct Insertion Density and Concentration Meter Designed for Aggressive Applications



Micro Motion® Fork Density meter helps users achieve fast-response density and concentration monitoring in challenging conditions



BOULDER, COLO -- Emerson Process Management has released the Micro Motion Fork Density Meter, the next generation of the market-leading Micro Motion 7826 and 7828 direct insertion density meters. Incorporating the same rugged and reliable tuning fork design as its predecessors, the Fork Density Meter is built to tackle the most demanding process applications such as pipeline interface detection, mineral slurry solids monitoring, and corrosive acid concentration control.



The direct insertion Micro Motion Fork Density Meter is the ideal choice for solving problems that customers face on a daily basis, such as reducing product give-away, minimizing cross-contamination on multi-product pipelines and ensuring operator safety when sampling hazardous liquids. It is designed for applications where fast-response density and concentration monitoring is required, even when the installation footprint is limited.



The Fork Density Meter incorporates a hazardous area head-mounted transmitter that has the flexibility to digitally connect to distributed control systems (DCS) as well as output raw sensor signals to signal converters and flow computers.  With 4-20mA, HART, WirelessHART, Sensor Time Period, Foundation fieldbus and RS485 Modbus communications all supported, the system integration and start up/commissioning costs are significantly reduced. 



With the implementation of HART and RS485 Modbus digital I/O communications, the Micro Motion Fork Density Meter has the capability to accept external signals from other field instrumentation such as temperature, pressure and volumetric flow devices.  The input of these external measurements enables the Fork Density Meter to calculate and output enhanced process measurements such as mass flow and net solids flow, while still minimizing installation and cabling costs.



The Fork Density Meter also incorporates a new diagnostic capability called Known Density Verification that checks the meter for measurement alarm conditions, sensor integrity and the presence of coating, erosion or corrosion.  This new technology expands the availability of diagnostics information in critical density measurement applications, resulting in significant reductions in maintenance costs and cycle times.



About Emerson Process Management

Emerson Process Management (http://www.EmersonProcess.com), an Emerson business, is a leader in helping businesses automate their production, processing and distribution in the chemical, oil and gas, refining, pulp and paper, power, water and wastewater treatment, mining and metals, food and beverage, life sciences and other industries. The company combines superior products and technology with industry-specific engineering, consulting, project management and maintenance services. Its brands include PlantWeb™, Syncade™, DeltaV™, Fisher®, Bettis™, Micro Motion®, Rosemount®, Daniel™, Ovation™ and AMS Suite.



About Emerson

Emerson (NYSE:EMR), based in St. Louis, Missouri (USA), is a global leader in bringing technology and engineering together to provide innovative solutions for customers in industrial, commercial, and consumer markets around the world. The company is comprised of five business segments: Process Management, Industrial Automation, Network Power, Climate Technologies, and Commercial & Residential Solutions. Sales in fiscal 2013 were $24.7 billion.  For more information, visit http://www.Emerson.com.



Contact:

Cara Wilmer

Emerson Process Management

1 (303) 530-8542

Cara.Wilmer@Emerson.com

More from Packaging Products & Equipment