Rotary Positioning Stages / Tables
Direct-Drive Rotary System offers precise positioning.
Press Release Summary: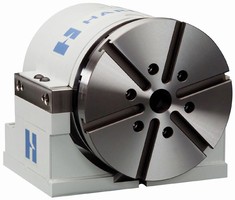 Featuring 10 in. slotted face plate, DD200 high-speed gearless rotary unit employs direct-drive design that eliminates backlash and provides accurate bidirectional response with repeatability of ±2 arc/sec. Indexing speeds reach 2,100°/sec, and ±.077 arc/sec encoder mounted directly to spindle enables ±3 arc/sec system accuracy. System supports semi-fourth- and fourth-axis integration and incorporates wraparound direct-drive, rare-earth, permanent-magnet torque motor.
---
Original Press Release:

Hardinge Introduces New 254mm Direct-Drive Rotary System...



Hardinge (Elmira, New York) adds the DD200 high-speed gearless rotary unit to their family of Direct-Drive Rotary Systems. This high-speed, high-torque model has super-precision positioning and repeatability making it ideal for parts that require extremely accurate angular positioning, as well as for high speed, high accuracy contouring applications. The direct-drive design eliminates backlash, providing high servo stiffness and extremely rapid and accurate bidirectional response with repeatability of ±2 arc/sec. The DD200 unit is engineered for precision part industries including aerospace, automotive, autosport, defense, medical, mold & die, electronics and energy/oil sectors to name a few.

Hardinge's Direct-Drive Rotary benefits include:
o Super-Precision positioning and repeatability for consistent, high precision machining
o Up to 2,100 degrees-per-second indexing speed for increased productivity
o Wraparound torque motor for a smaller foot print
o Zero backlash with high servo stiffness providing rapid bidirectional movements
o Hardinge's patent-pending design manages heat dissipation and maintains stability of the center line of the spindle to maximize process capability
o 4th-axis integration supported by Fanuc and Heidenhain allowing operators to take advantage of maximum machine capability including "look-ahead" programming for high speed machining
o Semi 4th-axis operation using Hardinge's standalone Servo Control for use on CNC machines that can't support "pole position detect"
o 10" (254mm) slotted face plate included for ease of clamping on a generous surface
o A flexible collet-ready spindle that allows quick changeover from collets, expanding collets, step chucks, power chucks and face plates without an adapter

The Hardinge DD200 incorporates a direct-drive, rare-earth, permanent-magnet torque motor. This frameless motor wraps around the spindle, eliminating the need for a separate motor extension resulting in a smaller footprint. A high resolution ± .077 arc/sec encoder is mounted directly to the spindle enabling ± 3 arc/sec system accuracy for extremely accurate positioning.

A rugged cross roller bearing provides super rigidity. The bearing is permanently lubricated, and there are no brushes to wear or to create dust, providing a smooth quiet operation, and a life that is expected to outlast the host machine. A pneumatic collet closer is equipped with a dual cylinder resulting in 4560-pound (2068kg) of adjustable draw bar pull. A brake clamp is incorporated to handle aggressive off-center drilling and other high-force machining operations. A rugged clamping torque of 233 ft-lb (315Nm) prevents non-slip of the workpiece during those rigorous applications.

Increase gripping capability to your machining center by using standard 16C collets, expanding collets, and step chucks for gripping up to 6" (152.4mm) diameters. The gripping is in the spindle, closest to the spindle bearings, unlike surface-mounted adapters used on traditional rotary tables. A power chuck bolts directly on the A2-5 spindle face, while a 254mm slotted faceplate accommodates clamping. Common spindle tooling can be shared between the Hardinge DD200 Rotary System and a lathe.

All Hardinge Rotary Systems are manufactured to strict specifications in Elmira, New York. For more information call 800-510-3161, fax 607-734-3886, email info@hardingetooling.com or visit www.hardinge.com.

More from Fluid & Gas Flow Equipment