Rotary Positioning Stages / Tables
Direct-Drive Rotary...Hardinge EASTEC booth #5045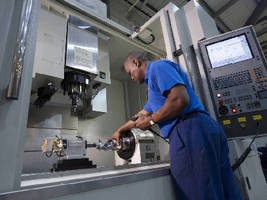 Hardinge direct-drive rotary systems, manufactured in Elmira, New York, provide flexible, high-speed, SUPER-PRECISION® rotary parts positioning. These rotary tables have zero backlash, permitting rapid bi-directional movement without the loss of time used to compensate for position over-travel which means more time in the cut. Direct-drive rotary units are ideal for parts that require extremely accurate angular positioning, as well as for high-speed, high-accuracy contouring applications.

Hardinge provides SUPER-PRECISION® rotary solutions for the aerospace, automotive, autosport, defense, medical, mold & die, electronics and energy/oil sector industries.
Direct-drive technology offers high speed, accuracy and repeatability in a small, rugged footprint. A frameless torque motor wraps around the spindle, eliminating the need for a separate motor extension, resulting in a smaller footprint. An encoder capable of ±.077 arc second resolution is mounted directly to the spindle enabling ±3 arc second system accuracy for extremely accurate positioning with 4 arc second repeatability. A rugged cross roller bearing provides super rigidity.

The key ingredient to direct-drive technology is the benefit of continued accuracy. Years from now, the rotary unit will test-out at the same accuracy and repeatability that it had when you purchased it. When compared to a standard geared system, the geared unit would need to be periodically adjusted for backlash and the oil would have to be routinely changed. Even with the adjustments and maintenance, accuracy would still be lost due to wearing of the gears. With the direct-drive unit, the cross roller bearing is permanently lubricated and there are no brushes to wear or to create dust, providing a smooth quiet operation with a life that is expected to outlast the host machine. Hardinge's design manages heat dissipation and maintains stability of the centerline of the spindle to maximize process capability.

Hardinge offers three sizes. The DD100 high-speed positioner has a 5C, A2-4 spindle nose and is ideal for drill & tap and laser processing with speeds of up to 4,200 degrees per second or 700 rpm continuous rotation. The DD200 and DD300 rotary tables include a spindle clamp to handle aggressive off-center drilling and other high-force machining operations. All three models have a Hardinge collet-ready spindle for quick changeover from collets, step chucks, expanding collets, jaw chucks and face & fixture plates. The DD200 (254mm) and DD300 (305mm) rotary tables have a 16C, A2-5 spindle nose and come with a precision-ground slotted faceplate in the aforementioned size.

Fourth-axis integration supported by Fanuc and Heidenhain allow operators to take advantage of maximum machine capability including "look-ahead" programming for high speed machining. The DD100 and DD200 will also operate with most any machine using Hardinge's standalone servo control.

Hardinge is offering 10% off all rotary systems for the EASTEC show, continuing through May 31, 2011. For more information call 800-843-8801 or visit www.shophardinge.com.


More from Electrical Equipment & Systems