Direct Drive Linear Actuator offers dual-mode operation.
Press Release Summary: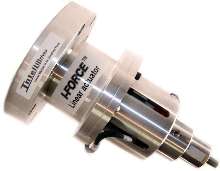 Able to operate in position and force modes, I-Force(TM) Series uses non-commutated, linear, coreless, brushless servomotors. Precision positioning is achievable due to 0.05-10 micron, contact-less linear position feedback and built-in linear guide system. Actuators can achieve accelerations above 10 G and cycle rates above 20 Hz. Supplied with digital I-Drive(TM) servo amps, products have 5-50 mm stroke, 1-3 micron accuracy, and 50-1,000 N force rating.
---
Original Press Release:

Direct Drive Linear Actuator I-FORCE(TM) Series


IntelLiDrives, Inc. released a new I-Force(TM) Series of the direct drive linear actuators designed to operate in both position and force modes.

I-Force(TM) actuators use non-commutated linear coreless brushless servomotors with no cogging and hysteresis. These motors feature very high force linearity and allow user to achieve precision force control down to the gram level.

Complemented with high-resolution sub-micron contact-less linear position feedback and low friction built-in linear guide system, I-Force(TM) makes precision positioning achievable.

Short electrical and mechanical time constants allow these actuators to achieve accelerations above 10G and cycle rates above 20 Hz.

I-Force(TM) actuators are supplied with digital I-Drive(TM) servo amplifiers and compatible with virtually any third party motion controller.

Applications include semiconductor assembly, integrated circuits testing, high-speed assembly and insertion and micro positioning.Link to the product information:http://intellidrives.com/I-Force.htm

Features
· Very smooth motion
· High dynamic response
· Force and position control
· Packaged, ready to mount

Specifications
· force 50-1000 N
· stroke 5 - 50 mm
· resolution 0.05 - 10 micron
· accuracy 1 - 3 microns

About company:

IntelLiDrives, Inc. manufactures comprehensive line of direct drive linear and rotary actuators used in electronic assembly, semiconductor manufacturing, life sciences and general motion automation applications.

IntelLiDrives, Inc.
8510 Bustleton Ave.
Philadelphia, PA 19152
phone: (215) 728-6804
fax: (215) 745-9459
e-mail: [email protected]
web: www.intellidrives.com