Direct Coil Feeding of Transfer Presses Yields Significant Savings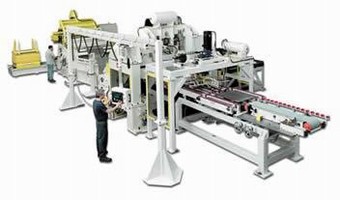 In a transfer press, the fundamental requirement of upstream equipment is to handle the material and present it to the press with the requisite precision to optimize all downstream operations. In short, the choice of feeding coil stock or blanks as well as the choice of the associated feeding equipment is vital to overall stamping efficiency. Direct coil feeding of transfer presses generates a long list of cost savings and quality improvements for today's pressrooms. Such enhancements include saving time, improving tooling performance, higher part and process quality, and lower overall costs.

Feeding sheets or blanks requires a decision: either obtain them from a steel service center or cut them to length in house. Compared to either choice, direct coil feeding can eliminate the time and costs of maintaining blanking lines and tooling as well as storing, moving, and loading the blanks themselves. Sheets or blanks also are approximately 10% more expensive than coils due to these associated operations. A projected annual volume of 150,000 pieces for a particular part would require approximately 500 stacks of blanks, but only 50 coils. This reduces by a factor of 10 the associated costs of receiving, tagging, handling, and storing raw material.

The costs for designing and procuring blanking dies can also be eliminated, a cost savings of up to $50,000 in some cases. Conventional coil processing equipment can now be combined with specialized cut-to-length and material-handling options that can process a wide variety of blank shapes and present them precisely to the first station of a transfer press.

Direct coil feeding can also increase overall quality. Producing blanks at a remote location involves cut-to-length equipment that unwinds, straightens, cuts, and stacks blanks. Direct coil feeding can accomplish the same thing, then present a customized blank directly to the first tooling station in a transfer press. Reducing the possibility of picking up any dirt, oils, or other foreign materials from blanks being stored in warehouses extends tool life and improves the quality of stamped parts.

Numerous Coe Press Equipment customers in and outside the United States in industries from appliances and automotive to off-road vehicles and heavy equipment components are realizing the savings and benefits of direct coil feeding. A white paper comparing the technical and operational procedures of processing a common part by blanks vs. direct coil feeding, with related costs, also is available.

About The Company
Coe Press Equipment Corporation, with headquarters in Sterling Heights, Michigan, is a leading producer of pressroom feed equipment including servo roll feeds, power straighteners, coil reels and cradles, and complete coil processing systems. They also design and engineer fully-integrated coil processing systems for metal stamping and processing operations.

For more information, contact Jim Ward at Coe Press Equipment Corporation, 40549 Brentwood, Sterling Heights, MI 48310, (586) 979-4800, fax (586) 979-2970.

More from Fluid & Gas Flow Equipment