Dip Soldering Systems suit short-run, batch applications.
Press Release Summary: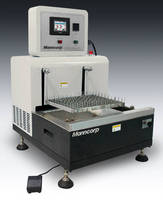 Touchscreen controlled models of Auto-Dip series feature programmable preheat and dip height settings as well as adjustable, finger-type PCB holder that firmly grips edges of board throughout soldering cycle. Accommodating heavy component-laden assemblies and customized pallets of small, irregularly-shaped PCBs, systems offer programmable speed, dip angle, lift angle, and dwell time. Largest model handles PCBs up to 23.6 x 13.8 in. and has 100 Kg, titanium solder pot.
---
Original Press Release:

Improved Dip Soldering Systems have Wider Range of Capability



New models of Manncorp's popular Auto-Dip series include features that take dip soldering technology to new levels of performance and reliability.  While dip soldering of through-hole components has long been an easy and affordable way to automate manual soldering processes when the costs of wave soldering cannot be justified, these latest enhancements increase quality and repeatability to a degree that make Auto-Dip systems ideal for virtually any short-run, batch application.  Due to their quick setup time and ease of use, Auto-Dip systems fill an important role and are a valuable addition to electronic manufacturing facilities of any scale.



Most significantly, touch-screen controlled Auto-Dip models feature programmable preheat and dip height settings and include an adjustable, finger-type PCB holder that firmly grips the edges of the board throughout the soldering cycle.  This flexible design is especially useful for heavy component-laden assemblies and can also accept customized pallets of very small, irregularly-shaped PCBs.  Programmable speed, dip angle, lift angle, and dwell time provide a high degree of process control that ensures consistent, high-quality solder joints.  An interchangeable version of the popular, pin-type PCB holder is also included which allows simultaneous soldering of multiple PCBs, randomly placed on the fixture-less, "bed-of-nails" loading platform.



Starting at $7,995, all Auto-Dip models have titanium solder pots with high-precision temperature controllers for use with lead-free SAC or SnPb solders.  They also include an automatic dross skimmer and collection trough, and a programmable, 7-day, 24-hour startup timer.  The largest model can handle large PCBs up to 600 x 350 mm (23.6" x 13.8") and its 100 Kg solder pot is still less than half the capacity of most small wave soldering systems and further lowering the comparative startup costs.  A heavy-duty, steel mounting stand with leveling feet is also included for sturdy, safe installation.



The EZ-Flux 500A spray fluxing system is a handy accessory to the Auto-Dip systems and keeps the production area clean and residue-free.  Foot-pedal activation frees the operator's hands for manipulating the PCB over the flux nozzle which includes separate adjustments for flow volume and mist density. Shields on the top of the unit are adjusted according to the PCB dimensions to minimize overspray and to recover excess flux.



To learn more about the Auto-Dip Series of dip soldering systems and accessories from Manncorp, please go to http://www.manncorp.com/Auto-Dip.html.



Sales and support offices in three locations: East (Huntingdon Valley, PA), West (San Diego, CA) and Mexico.   www.manncorp.com



Paulette Kevolic

Marketing Coordinator

215-830-1200

pkevolic@manncorp.com

More from Packaging Products & Equipment