DIP Rotary Switches feature sealed construction.
Press Release Summary: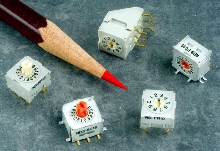 Available in through-hole and SMT configurations, ND and ND3 series ultra-miniature, 8 mm DIP rotaries feature positive action detent mechanism and bifurcated and spring-loaded contacts. Products come in screwdriver and shaft-actuated models, in real or complement codes with 10 and 16 positions. Series also includes bracketed and unbracketed switches, in upright or right angle models, as well as with color-coded actuators.
---
Original Press Release:

NKK Switches' Ultra-Miniature 8MM DIP Rotaries ND/ND3 Series


Devices' distinctive characteristics set them apart from like products offered in market

SCOTTSDALE, AZ - (Feb. 11, 2005) - NKK Switches remains the frontrunner in quality and innovation by improving the functionality and dependability of products like the ND/ND3 series of DIP rotaries.

NKK's ND and ND3 series of ultra-miniature 8mm DIP rotaries are available in both through-hole and SMT configurations. These devices boast many distinctive characteristics setting them apart from like products offered in the market.

This extensive series features a sealed construction preventing contact contamination. The sealed design is accomplished by incorporating seals between the actuator and housing and between the housing and base. This allows automated soldering and cleaning for through-hole devices, and vapor phase and IR reflow soldering for surface mount options. The heat tolerant resin used for construction meets the UL Flammability rating of 94V-0 and maintains switch reliability through the automated assembly processes.

NKK's DIP rotaries are offered in both the screwdriver and shaft-actuated models (in real or complement codes with 10 and 16 positions). Bracketed or unbracketed switches, in upright or right angle models, are included in this series. Highly-visible legends provide trouble-free code settings. In addition, actuators are color coded in red for compliment codes, and white for real codes. The detent mechanism is designed for crisp positive action and for accurate switch setting. The bifurcated and spring-loaded contacts ensure logic level reliability.

The ND through-hole and ND3 SMT devices have .100² terminal grid spacing between pin centers, plus 3 x 3 terminal arrangements that conform to industry standards. Terminals are epoxy sealed to lock out flux, solvents and other contaminants. Through-hole devices have crimped terminals to ensure secure PC mounting and to prevent dislodging during soldering. The gull wing terminals on the ND3 surface mount options ensure mechanical stability and simplifies solder joint inspection. The industry practice of screening solder paste, at ever decreasing thickness, requires extremely flat component terminals to ensure contact with solder paste.

NKK delivers coplanarity control on these devices as part of their package of excellence. The coplanarity zone is 0.15 mm maximum (the allowable distance between all considered surfaces in two parallel planes). Surface mount devices are packaged 500 pieces per tape reel. Tray packaging is available on request.

A leading designer and producer of electromechanical switches, NKK Switches offers one of the industry's most extensive selections of illuminated, process sealed, miniature, specialty, and surface mount switches. The company manufactures more than three-million toggle, rocker, pushbutton, slide, rotary and DIP rotary, keypad, and keylock switches. NKK Switches maintains a complete network of qualified representatives and distributors through the United States, Canada, Central and South America, Europe, and Asia.

NKK Switches is keenly aware of the myriad of issues that are covered under the RoHS directive. With more than 50-years experience in the switch industry and as an environmentally-conscious company, NKK is not only committed to providing high quality products and services, but we also provide environmentally-safe products for our valued customers. NKK continues to lead the industry in responding to the needs of the marketplace with innovation, high reliability and a commitment to excellence.

For more information, contact Jann Sousa at NKK Switches, 7850 E. Gelding Dr., Scottsdale, AZ 85260. Phone 480-991-0942. Fax 480-998-1435. Or visit the NKK Switches website at www.nkkswitches.com.

More from Fluid & Gas Flow Equipment