Diodes are handled by pick and place machines.
Press Release Summary: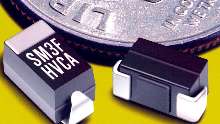 SM3F rectifier surface mount high voltage diodes come on 12 mm tape and have standard rectangular SMA profile. Units feature peak inverse voltage rating of 3,000 V with 2.7 V forward voltage drop and average forward current of 250 mA. Typical recovery time is 75 nsec with maximum surge current of 20 A. Diodes are for miniature cascade multipliers and applications such as switching, blocking, and sensitive components protection.
---
Original Press Release:
New 3000 V Surface Mount, SMA Packaged Rectifier is the First Fully Compatible with Automatic Assembly

The SM3F rectifier from HV Components Associates is the first true surface mount high voltage diode in the industry. The SM3F is available on a 12-mm tape. Unlike other types currently used as surface mounts, the SM3F has the standard rectangular SMA profile (similar to DO-214AC) and is handled easily by pick and place machines.

The SM3F features a peak inverse voltage (PIV) rating of 3000 Volts with a very low 2.7 volts forward voltage (VF) drop and an average forward current (IF) of 250 mAmps. Typical recovery time (TIT) is 75 nS. Maximum surge current (IFSM) is 20 Amps.

The diodes are ideal for miniature cascade multipliers and excel at applications such as switching, blocking and sensitive components protection. Other applications include high voltage power supplies for plasma displays, electrophoresis and medical instrumentation. The SM3F is typically priced at 75¢ per piece in 6,000 piece rolls and available in 4-6 weeks. Samples from stock.

For a copy of the SM3F data sheet, contact:

Scott Smith
Sales Manager
HV Components Associates
P. 0. Box 2245
Farmingdale, NJ 07727
Tel: (732) 938-4499, Fax: (732) 938-4451
Web: www.hvca.com E-mail info@hvca.com
More from Mechanical Power Transmission