Diode Laser delivers high power.
Press Release Summary: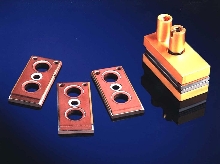 LightStone(TM) is suited for direct-diode materials processing and as high-power pump source for diode-pumped lasers. It provides 60 W continuous-wave (CW) in 780 to 820 nm wavelength range. Typical operating current and voltage is 70 A at less than 2 V. Beam divergence is less than 40 deg by 10 deg, FWHM. With thermal factor of less than 0.35 deg C/W, unit provides 50% power conversion efficiency, even at elevated temperatures, and can be stacked in 2-dimensional configurations.
---
Original Press Release:
Coherent Semiconductor Division Introduces LightStone: Highest Power Diode Laser Commercially Available for Pumping and Direct Diode Applications

Santa Clara, Calif., February 27, 2002 - Coherent Inc, Semiconductor Division (CSD) (NASDAQ:COHR) announces LightStone(TM)-the highest power diode laser commercially available for use in direct-diode materials processing and as a high-power pump source for diode-pumped lasers. LightStone is a new product family based on the industry standard, macro-channel cooled platform (MCCP), and is the building block for next-generation applications requiring kilowatts of delivered CW power.

LightStone provides 60W continuous-wave (CW) in the 780 nm to 820 nm wavelength range. This 50% fill-factor bar measures 1 cm long and features a 1 mm cavity. Typical operating current and voltage for the 60W device is 70 amperes at less than 2 volts. Beam divergence is less than 40 deg by 10 deg, FWHM.

LightStone provides over 50% power conversion efficiency, even at elevated temperatures. The proprietary cooling technology behind LightStone's thermal resistance, which is less than 0.35deg C/W, is the foundation for the unit's 10,000-hour lifetime. This aluminum-free, active area (AAA) design significantly increase long-term reliability. This is because facet oxidation, the primary failure mechanism associated with conventional AlGaAs semiconductor materials, is absent from the diodes.

Due to its unique mounting and cooling technology, LightStone can also be stacked in 2-dimensional configurations. "LightStone is an integrated step for applications that rely on high-power CW bar technology. Called LightStack(TM) in its stacked configuration, this high-brightness laser offers unparalleled advantages, including very simple optical delivery, a smaller head design than competitive products, and reduced maintenance due to very long lifetimes and a smaller component count," said CSD product line manager, Michael Atchley. "And since we control the manufacturing process from AAA wafer growth up to the full assembly and stacking of these devices, we can provide the most reliable high-power diode laser source on the market."

Founded in 1966, Coherent, Inc. is a Standard & Poor's SmallCap 600 company and a world leader in providing photonics-based solutions to the commercial, scientific, and telecom markets. Please direct any questions to Michael Atchley, product line manager, Coherent Photonics Group, Semiconductor Division, 5100 Patrick Henry Drive, Santa Clara, CA 95054; 408/764-4856, 408/764-4329 (fax); Michael.Atchley@Coherentlnc.com. For more information about Coherent, Inc., including product and financial updates, visit our Web site at www.CoherentInc.com

More from Laboratory and Research Supplies and Equipment