DIO Boards resist high temperatures and offer sink current.
Press Release Summary: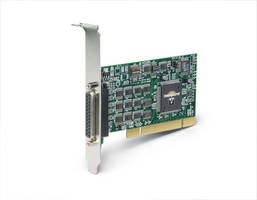 Operating at temperatures up to 158°F and offering sink current of 24 mA, HDIO 24L digital boards are suited for I/O applications in industrial areas near furnaces and heat-treating facilities. They provide two 8-bit and two 4-bit ports, programmable by port, and come with both standard and low profile backplates. Boards emulate Mode 0 of standard 8255 PPI chips for conventional programming. PCI goldfingers are slotted for both 3.3 and 5 V inputs.
---
Original Press Release:

High-Current DIO Board Ideal for Hot Spots



New CyberResearch® HDIO 24L digital I/O boards sink 24 mA of current and operate comfortably at temperatures up to 158°F. The boards provide two 8-bit and two 4-bit ports, programmable by port. These PCI boards come with both standard and low profile backplates so they fit both chassis sizes.

New HDIO 24L digital I/O boards from CyberResearch, Inc. resist high temperatures and offer plenty of sink current, so they are ideal for input/output applications in industrial areas near furnaces and heat-treating facilities. HDIO 24L boards emulate Mode 0 of standard 8255 PPI chips for convenient, conventional programming. Port C Pin 0 and Port C Pin 4 can also be used to provide interrupts to your PC system.

A simple jumper allows users to select what happens to port settings and output values when the system is reset "hot," meaning that power is not turned off. Users can either retain the latest settings or return to a default setting. The PCI goldfingers are slotted for both 3.3V and 5V inputs.

In addition to HDIO 24L DIO boards - shipping from stock from $120 - CyberResearch, Inc., also offers rugged industrial PCs and monitors, as well as CPU cards, data acquisition, PC accessories, and motion control. For more information, call Joe Tetreault at 800-341-2525, or visit http://www.cyberresearch.com/DIO.

To request a free copy of the PC Systems Handbook for Scientists and Engineers, call 1-800-341-2525 or e-mail handbook@cyberresearch.com. Outside of the U.S. please call 203-483-8815 or fax 203-483-9024.

TECHNICAL CONTACT NAME AND JOB TITLE

Mike Mathis, Manager of Applications Engineers

TECH CONTACT'S PHONE NUMBER AND EMAIL ADDRESS

1-800-341-2525 ext 101 sales@cyberresearch.com

COMPANY'S OR DIVISION'S COMPLETE ADDRESS INCLUDING COMPANY/DIVISION NAME

CyberResearch, Inc.

25 Business Park Drive

Branford, CT 06405

BOTH TOLL-FREE AND LOCAL PHONE NUMBERS

1-800-341-2525 and 1-203-643-5000

LINK TO A SPECIFIC WEB PAGE WITH MORE DETAILS ABOUT THIS PRODUCT

http://cyberresearch.com/news/news188.htm

PRICE OF PRODUCT



Catalog#	Price

HDIO 24L	$120.00



Joseph Tetreault

Customer Relations Manager

CyberResearch, Inc.

(203) 643-5003 ext 127 - Direct

(800) 341-2525 - Toll Free

(203) 643-5001 - Fax

More from Packaging Products & Equipment