Dinkle Developed 0226 Series with a 5.00mm Pitch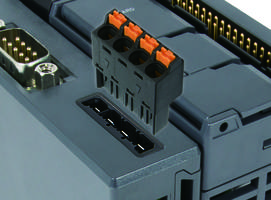 After the successful launch of Dinkle's 0225 series, Dinkle developed the 0226 series with a 5.00mm pitch to meet industrial standard needs.
0226 5.00 succeeds with the advantage of 0225's design.
PID (Push-In Design) solution saves 80% manpower, LED indicator reduPushices the time needed for checking connection points and double-sided S-Cage technology (Dinkle's Patent) enhances anti-vibration requirements compared to the other leading brand.
The streamline of housing layout, inherited from 0225 series, is another advantage that allows for efficient plugging without loosening problems; users can select 0226-01XX ear mount traditional plugs for locking in sockets or 0225-02XX smart clipping flange solution for a quick lock-in solution.
Optional LED light pipe (mounted on plug and socket) enables users to identify connection without using a test pin. Multi-function lever design allows users has flexibility to use either a Phillip (DNT11-0102(2.5mm)) or straight (DNT11-0102(2.5mm),DNT11-0107(3.5mm)) screw driver to complete wire harnessing.
0226 series is applying to on IO system applications and high end control boards. Be applicable, more convenient, less troubleshooting.
0226 series:
300V/10A 24~16AWG (0.2~1.5mm²)
UL rated: 300V/10A
IEC rater: 600V/17.5A
For more information
Dinkle Corporation, USA
12613 Executive Drive Suite 704
Stafford, TX 77477
Phone: 832-539-4703
Contact:
Albert Yang
Sales Manager
email: info.us@dinkle.com
More from Architectural & Civil Engineering Products