DIN Rail Mounting Enclosures feature compact design.
Press Release Summary: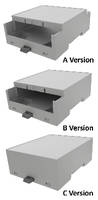 With height of 32 mm, Italtronic Modulbox Compact XTS Enclosures are available from 2–12 modules wide across 3 standard versions A, B, and C. Units are produced in UL94V-0 material with gray top panel included as part of mold. Accessories such as pre-holed and plug-in terminal covers are available. Mounted vertically, Italtronic Railbox Compact features 79 mm profile and comes in 17.5, 22.5, 35, and 45 mm thicknesses, suitable for applications with limited available space on DIN Rail (EN 60715).
---
Original Press Release:

Compact DIN Rail Mounting Enclosures Now Available from Allied Electronics



To suit applications with limited space both on the DIN Rail or within an industrial cabinet Hitaltech offer the Italtronic range of 'Compact' DIN Rail mounting enclosures including the Modulbox XTS compact range and the Railbox Compact.



Modulbox XTS Compact:



The Modulbox Compact XTS is the latest addition to the Modulbox range of DIN Rail mounting enclosures.



Like the standard Modulbox XTS range, these compact enclosures are available from 2 to 12 modules wide across three standard versions A, B and C but on a reduced height of approx 32mm.



The addition of the B & C version offers an enclosure with increased internal volume for components. These DIN Rail mounting enclosures are similar to the existing MODULBOX XTS Enclosures, but the height is reduced to approx 32 mm.



A range of accessories including pre-holed and plug-in terminal covers are available which are compatible with Hitaltech's range of plug and socket connectors.



Produced in UL94V-0 material the units are supplied with a grey top panel included as part of the mould.



In order to offer a standard enclosure which meets any design challenge, Hitaltech can offer a customisation service. For example, the Modulbox XTS top panel or the enclosure itself can be custom machined and/or printed to specific requests. These requests may be to add corporate branding/logos to the enclosure or to machine openings for inputs/outputs.



"By offering a range of standard DIN Rail enclosures including low profile versions, Hitaltech are able to provide a standard enclosure which can suit varying applications within the HVAC and Building Automation. The addition of these low profile enclosures for both the Modulbox and Railbox range allows Hitaltech to offer an enclosure where space on either the DIN Rail or within an industrial cabinet is not at a premium." Explains Hitaltech's marketing manager Tara Fisher.



Railbox Compact:



Hitaltech are pleased to introduce Italtronic's DIN Rail mounting enclosure, the Railbox Compact. The Railbox Compact is a lower profile version of the standard Railbox enclosure (height of 79mm).



Manufactured by Italtronic Srl, the Railbox Compact is a unique and stylish enclosure suitable for electronic applications mounted on a DIN Rail (EN 60715). The enclosure is mounted vertically and is ideal for applications with limited available space on the DIN Rail.



4 sizes are available, 17.5mm, 22.5mm, 35mm and 45mm thickness which can be supplied in three standard colours; Light Grey, Dark Grey or Green.



These DIN rail mounting enclosures are easily assembled as no screws are required.

Accessories include, breakable hole covers, internal adaptors (for the insertion of smaller PCBS in the enclosure), panels and front covers.



Like the standard Railbox the PCB can be mounted in the base without the need for screws as well as allowing for Hitaltech's plug-in connectors to be used on each side of the plastic enclosure.



The Railbox BUS system is available for applications where the design requires multiple Railbox enclosures to be connected and allows for integration with other systems.



This electronic enclosure is ideal for applications where space on the DIN Rail is at a premium and is well suited to the industrial control, energy metering and signal conditioning markets.



Further information is available by visiting the Hitaltech website www.hitaltechusa.com or for UK enquiries www.hitaltech.co.uk



Both the Modulbox XTS Compact and Railbox Compact are available to purchase in the USA via Allied Electronics: http://www.alliedelec.com/search/results.aspx?term=hitaltech

More from HVAC