DIN Connector comes in tape-and-reel packaging.
Press Release Summary: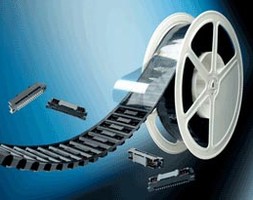 Manufactured according to DIN 41612/IEC 60603-2, DIN connectors with THR (Thru Hole Reflow) termination can be soldered using lead-free wave or reflow soldering. DIN-variants are available with black housing and pick-and-place pad in tape-and-reel packaging, permitting fully automatic processing with SMT placement machines, enabling boards to be soldered in single operation. THR version is offered in C, C/2, C/3, CD, R, R/2, R/3, and RD types.
---
Original Press Release:
ERNI Offers DIN Connector in Tape-and-Reel Packaging
Optimized for Fully Automatic Mounting, RoHS-Compliant Adelberg, Germany - March 8, 2006 - ERNI, a pioneer with over 35 years of experience with DIN-standard connectors, now offers DIN connectors with THR (Thru Hole Reflow) termination in tape-and-reel packaging for fully automatic assembly. This enables economic and automatic processing for these somewhat larger components as well. The first standard connectors according to DIN 41612/IEC 60603-2 with THR termination in tape-and-reel packaging are already being used in large volumes by a customer from the telecommunications sector. Upon request, ERNI supplies its customers with DIN-variants with a black housing and a pick & place pad in the tape-and-reel packaging. This permits fully automatic processing with SMT placement machines. In this way, the boards can be soldered in a single operation, thus eliminating the potential need for hand soldering or selective soldering. This, in turn, boosts quality and reduces the amount of floor space and operational resources needed for production. The product variants used here employ insulation housings made of heat-resistant thermoplastic. Consequently, the connectors can be soldered using wave or reflow soldering without lead and in conformance with the EU's RoHS directive. For the THR version, the following types are available: C, C/2, C/3, CD, R, R/2, R/3 and RD. Using THR-SMT termination makes it possible to take advantage of fully automatic SMT processing with little or no change to the layout. For this reason, ERNI has already expanded different connector series to include versions with THR termination. ERNI offers a wide range of connectors according to DIN 41612/ IEC 60603-2, from 2- and 3-row standard types up to 4- and 5-row high-density versions (up to 160 pins), as well as DIN connectors for the power supply. There are variants available with different termination types (such as the press-fit, dip-soldering, wire-wrap, and crimp techniques) as well as THR. Pricing DIN half size C/2 , R/2 pricing starts at USD 1,75 in volume. Company Background About ERNI ERNI is a leading global manufacturer and worldwide supplier of a broad line of interconnects for the telecommunications, data communications, computer, industrial and medical markets. ERNI has manufacturing operations in Europe as well as sales offices in over 40 countries. ERNI products are also marketed via a worldwide network of representatives and leading distributors. Further information is available at www.erni.com. Company Contacts: Company Contact -- North America: ERNI Electronics, Inc. 3005 E. Boundary Terrace Midlothian, VA 23112 Tel:+1 804-228-4100 Fax: +1 804-228-4099 uspr@erni.com
Contact This Company Download Spec Sheet
More from Construction Equipment and Supplies