DIMM Modules support high-powered servers.
Press Release Summary: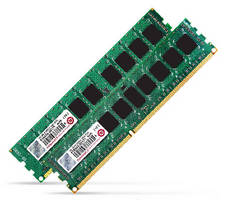 Designed to support server virtualization, 4 GB DDR3-1866 Registered DIMM and 4 GB DDR3-1866 unbuffered ECC DIMM memory modules are suited for use in Intel Xeon E5-2600 v2 processor-based servers. Each module is rated at 1,866 MHz with latency of 13-13-13 and operating voltage of 1.5 V. Built-in Error Correcting Code function monitors data being transferred in and out of memory and corrects any errors found. Modules fully comply with JEDEC standards.
---
Original Press Release:

Transcend Unveils DDR3-1866 Modules to Support High-Powered Servers



New Delhi -- Transcend Information, Inc. (Transcend ), a worldwide leader in storage and multimedia products, is proud to announce its launch of 4GB DDR3-1866 Registered DIMM (RDIMM) and 4GB DDR3-1866 unbuffered ECC DIMM (ECC UDIMM) memory modules. Ideal for use in Intel  Xeon  E5-2600 v2 processor-based servers, the new DDR3 modules ensure optimal performance in today's virtualized data centers.



Developed to support increasing use of server virtualization, Transcend's DDR3-1866 memory modules are tested to be fully compatible with Intel Romley-EP platforms based on Intel's latest generation server processor, the Xeon E5-2600 v2 family (code named "Ivy Bridge-EP"). As Transcend's highest frequency DDR3 server modules, the 4GB DDR3-1866 DIMMs are constructed with top quality DDR3-1866 DRAM chips that deliver exceptional performance and durability.



Each module is rated at 1866MHz with latency of 13-13-13 and an operating voltage of a mere 1.5V. Additionally, Transcend's DDR3-1866 server DIMMs feature built-in ECC (Error Correcting Code) function, which monitors data being transferred in and out of memory and corrects any errors found. This greatly decreases the risk of computational errors during complex tasks while simultaneously enhancing overall system reliability.



Optimized for maximum quality and compatibility, the DDR3 memory modules fully comply with JEDEC (Joint Electron Device Engineering Council) standards, delivering the best performance, stability, and consistency in the industry. Both are backed by a limited lifetime warranty.



Ordering Information

Part Number Capacity Description

TS512MKR72V8N 4GB 1866MHz DDR3 Registered ECC DIMM

TS512MLK72V8N 4GB 1866MHz DDR3 Unbuffered ECC DIMM



Transcend is a globally recognized leader in the manufacture of storage, multimedia and industrial products. Established in Taiwan in 1988, Transcend offers a full line of standard and proprietary memory modules, flash cards, USB flash drives, portable hard drives, solid-state drives, digital music players, card readers, multimedia products and industrial products. Transcend has established offices in the United States, the United Kingdom, Germany, The Netherlands, Japan, Korea, China and Hong Kong. As a customer-focused company, Transcend has the ability to quickly respond to the market's changing needs. For more information, please visit www.transcend-info.com













More from Software