Digitizers offer 100 or 200 MS/s max sampling per channel.
Press Release Summary: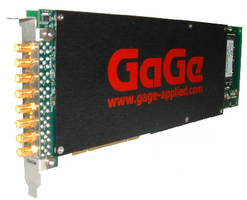 Featuring 16-bit nominal resolution, Razor(TM) CompuScope 16XX Series provides up to 4 channels in single-slot PCI card with up to 200 MS/s sampling per channel, and up to 4 GB onboard acquisition memory. Effective Number of Bits is 12 and THD is less than -80 dB. Input voltage of ±50 V enables interaction with 42 V batteries. Offering true Master/Slave multi-card synchronization, digitizers enable up to 8 cards, or 32 channels, to be simultaneously sampled in single chassis.
---
Original Press Release:

GaGe Announces New High Speed, Multi-Channel, 16-bit Digitizers



With up to 4 digitizing channels and 100 or 200MS/s sampling

Lockport, Illinois (March 20, 2009) - GaGe, a worldwide leader in the design and manufacture of high-performance PC-based digitizer and oscilloscope cards, today introduced The Razor(TM) family of high-speed, high-resolution, multi-channel digitizers. The Razor CompuScope 16XX family features up to 4 channels in a single-slot PCI card with up to 200 MS/s sampling per channel, and up to 4 GB of on-board acquisition memory.

"We recently introduced a 16-bit version of our OctopusTM digitizers that provide up to 8 channels in a single PCI card and sampling speeds up to 25 MS/s," said Patrick Cassady, Executive Vice President of DynamicSignals LLC. "For those customers who require higher sampling rates, we now have The Razor that provides all of the same cutting-edge functionality, but with up to 4 channels and sampling speeds up to 200 MS/s," Cassady added.

In tandem with its 16-bit nominal resolution, the Razor provides extremely high signal fidelity with an Effective Number of Bits (ENOB) of 12. The ENOB is the universally accepted measure of a digitizer's combined noise and distortion performance. The Razor provides an ultra-low Total Harmonic Distortion (THD) of less than -80 dB. In many applications, low-distortion is far more important than low-noise since noise may often be reduced through signal processing techniques, such as that provided by our eXpertTM Signal Averaging or FIR Filtering FPGA technology. By contrast, there is virtually no practical way of removing signal distortion through signal processing, so that the ultra-low distortion introduced by the Razor provides a huge benefit.

In addition, ENOB performance is optimized on the 100 MS/s and 200 MS/s Razor models through the use of separate ADC chips on each model. No other high-speed digitizer provides such high ENOB performance - in addition to high channel density and a flexible input conditioning.

The Razor also includes a high voltage input of ±50V. This input voltage is ideal for interacting with the 42V batteries being introduced by the mil/aero and automotive industries. The ±50V input range is the highest input range available in a digitizer on the market today. Typically, such high input voltages are found in oscilloscopes, but not digitizers. The Razor also provides an automatic high-voltage trip feature that protects the card against damages for voltages of up to ±75V on most input ranges. Gage's, now perfected automatic calibration mechanism, provides ½ % DC accuracy on all Razor input ranges.

Featuring true Master/Slave multi-card synchronization, The Razor enables up to 8 cards, or 32 channels, to be simultaneously sampled in a single chassis. A Master/Slave Razor system automatically performs on-board timing calibration that ensures simultaneous sampling on all channels within 200 picoseconds.

Summary of Key Features

o 2 or 4 digitizing channels

o 100 or 200 MS/s maximum sampling per channel

o 16 bits vertical resolution

o 128 MS to 2 GS on-board acquisition memory

o 65 or 125 MHz input bandwidth

o High voltage input of ±50V

o Full-size, single-slot PCI card

o Master/slave multi-card synchronization

o Full-featured front-end, with software control over input ranges, coupling and impedances

o 32 bits, 66 MHz PCI standard for 200 MB/s transfer to PC memory

o Ease of integration with External or Reference Clock In and Clock Out, External Trigger In and Trigger Out

Software Support

Drivers for Microsoft Windows Vista, XP and 2000 are supplied with the card, as well as a free Lite Edition of GaGe's powerful GageScope® PC Oscilloscope software. SDK's for LabVIEW, MATLAB, and C/C# are also available.

For Further Information contact:

Nicole Faubert

GaGe/KineticSystems Marketing

Tel./Fax: 514-876-1850

nfaubert@gage-applied.com

About GaGe

GaGe (www.gage-applied.com), a brand of DynamicSignals LLC (DynamicSignals.com), is a worldwide industry leader in high-performance signal capture. GaGe, KineticSystems, Preston Scientific and Cyber Systems, all brands of the DynamicSignals growing family, serve a wide-range of industries by providing instruments and modules for PC-based test and measurement systems and synthetic instrumentation built on the PCI, CompactPCI, PXI, VXI, CAMAC and proprietary platforms.

GaGe's product offering includes a family of multi-MHz to GHz digitizers and scope cards, analog signal generator cards, digital input and digital output cards, as well as the programming-free GageScope® oscilloscope software and a vast array of powerful Software Development Kits (SDKs).

GaGe's family of signal capture products consists of the CompuScope line of 8-bit, 12-bit, 14-bit and 16-bit digitizers and scope cards for the PCI and CompactPCI/PXI buses. With sampling rates up to 2 GS/s and very deep on-board acquisition memory of up to 4 Gigabytes, GaGe's product line offers the top performance on the market today in the 3 key dimensions of sampling speed, resolution, and memory.

The company's customer focus translates into products that are used across diverse industries such as Communications, Computers, Military/Aerospace, Fundamental Research, and Education. Applications served are Manufacturing Test, Radar (SIGINT), Ultrasonics, Lasers/LIDAR, Spectroscopy, Automated Test Equipment, etc.

For more information on GaGe or any of its products, contact the company at 900 N. State Street, Lockport, IL 60441. Telephone 1-800-567-GAGE Fax 1-800-780-8411

More from Chemicals & Gases