Digitizers integrate pre- and post-trigger capability.
Press Release Summary: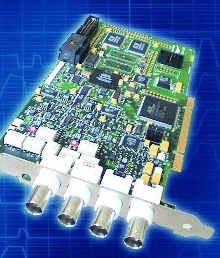 Dual-channel Models ATS1250 and ATS1220 are 12-bit PCI waveform digitizers for ultrasonic imaging and inspection, shock and vibration, and scientific applications. ADC and ASoPC technologies provide 60 dB signal-to-noise ratio. Units provide independently programmable inputs from ±20 mV to ±20 V, ac/dc coupling, 50 W/1 MW impedance on each channel, and 128,000 points of acquisition memory per channel. Scatter-gather DMA provides 40 MB/sec rate of transfer.
---
Original Press Release:

Alazartech Makes 12 Bit PCI Digitizers Affordable - New Product Family Launched


Montreal, Canada (March 12, 2004) - AlazarTech, the manufacturer of low cost, high performance PC Based Instruments, today announced the launch of a family of 12 bit PCI waveform digitizers targeted for the needs of OEM customers and applications involving ultrasonic imaging and inspection, shock & vibration, manufacturing test and scientific research and development.

The new 12-bit family is led by the ATS1250, a 2 channel, 12 bit, 50 MS/s PCI digitizer starting at $1,795. The other member of the family is the ATS1220, a 2 channel, 12 bit, 20 MS/s PCI digitizer starting at $1,295.

"Our OEM customers were asking for more dynamic range to tackle ultrasonic, radar, imaging and shock & vibration signals. At the same time, they did not want to pay premium prices. We were able to quickly respond to their needs by designing the 12-bit PCI digitizer family to suit all the target applications at a price that customers love", stated Muneeb Khalid, President of AlazarTech.

Designers of the 12-bit PCI digitizer family took advantage of latest developments in ADC technology and the company's ASoPC (Acquisition System on Programmable Chip) technology to not only provide a 40% price advantage over equivalent products on the market, but also provide 60 dB Signal-to-Noise Ratio (SNR) and pack in more standard features, thus fitting in with the company's "More For Less" strategy.

ATS1250 and ATS1220 PCI digitizers provide independently programmable input ranges from +/- 20 mV to +/- 20V, AC/DC coupling and 50W /1 MW impedance on each of its two channels. The sampling rate is also programmable from 50 MS/s down to 10 KS/s.

Users can capture signals from rapidly occurring triggers by using Multiple Record mode that allows both pre- and post-trigger capability. A 40-bit time stamp allows users to record the occurrence of each trigger event relative to all other triggers in a given session.

The standard model comes with 128K points of acquisition memory per channel. A high memory model with 8M points per channel will be available in July of 2004. Acquired data can be transferred to the host PC memory using scatter-gather DMA (bus mastering) that provides transfer rates in excess of 40 MB/s even under the Windows operating system.

The ATS1250 and ATS1220 digitizers are accompanied by ATScope software that allows the user to set up the digitizer, acquire signals and view and store them without writing a single line of programming code or drawing any diagrams.

OEMs can integrate the ATS1250 and ATS1220 PCI digitizers into their own systems very easily using the Windows XP/2000/98SE compatible ATS-SDK Software Development Kit. This SDK includes sample programs written in C/C++ and VisualBASIC. A high performance LabVIEW® VI, called ATS-VI, is also available.

Availability and Pricing

Product Availability Price
ATS1220-128K Immediate $1,295
ATS1220-8M 12 weeks $2,995
ATS1250-128K Immediate $1,795
ATS1250-8M 12 weeks $3,995
ATS-SDK Immediate $250
ATS-VI Immediate $250

For Further Information
For further information, contact Muneeb Khalid toll-free at 1-877-725-2927 or via e-mail at muneeb@alazartech.com. Mailing address is AlazarTech, Inc., 3539 St-Charles Blvd., Suite 640, Montreal, QC, Canada H9H 3C4.

About AlazarTech
AlazarTech, headquartered in Montreal, Canada, provides high performance, low cost PC Based Instruments and software for customers involved in building OEM products, manufacturing test systems and research and development. AlazarTech serves the Test and Measurement market with its PCI digitizers and is working on developing additional instrument product families. The company's line of ATS PCI digitizers have been recognized by leading European, Asian and North American OEMs as being superior in quality to any other device on the market. The company's products are used worldwide across diverse industries such as medical imaging, metal inspection and semiconductor test.
AlazarTech sells its products through an independent sales organization in North America, and internationally through a growing network of qualified distributors.

For more information on AlazarTech, visit www.alazartech.com.

More from Mechanical Power Transmission